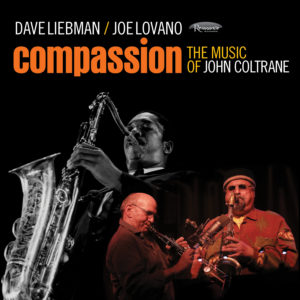 Compassion: The Music of John Coltrane
Dave Liebman/Joe Lovano
Dave Liebman - saxophone
Joe Lovano - saxophone
Phil Markowitz - piano
Ron McClure - bass
Billy Hart - drums
https://www.amazon.com/Compassion-Dave-Liebman-Joe-Lovano/dp/B06XPT5697
Track Listing
1.            Locomotion (6:11)
2.            Central Park West/Dear Lord (8:07)
3.            Olé (8:44)
4.            Reverend King (5:20)
5.            Equinox (6:39)
6.            Compassion (17:18)
Liner Notes
It was in late June 2007 that NEA Jazz Master Dave Liebman received a call from Robert Abel, Managing Partner of the UK creative agency Somethin' Else, to produce a show for the BBC Radio 3's popular program Jazz on 3. Noting that July 17, 2007 marked the 40th anniversary of John Coltrane's passing, Robert asked if he could bring in Saxophone Summit, Liebman's outfit co-led with Grammy Award-winner Joe Lovano and Ravi Coltrane, to record an all-Coltrane program for the show. With the recording date just a few weeks away, Liebman managed to assemble regular members Lovano, PhilMarkowitz, and Billy Hart along with Ron McClure as a substitute for the unavailable Cecil McBee. Recorded on June 22, 2007, almost forty years to the day after John Coltrane's death, the quintet laid down 50+ fascinating minutes of music that showcases the breadth of John Coltrane relatively short but momentous musical legacy. Now a decade later, Resonance is proud to bring the recording to light.
To commemorate Coltrane's semicentennial on Resonance, there are arguably no other musicians better equipped for the job. The influence of John Coltrane on each member of the quintet cannot be overstated; as Billy Hart says in the liner notes, "we're just all unbelievable Coltrane fans." He estimates that between the five of them, the study of Coltrane's music has amounted to over 200 years collectively. Since 1999, Liebman and Lovano, along with Markowitz and Hart, have been paying homage to Coltrane with their Saxophone Summit ensemble. Originally founded alongside Michael Brecker, the current iteration features Greg Osby filling out the front line and pays particular attention to Trane's oft-overlooked late period.
To celebrate the Coltrane anniversary, Liebman and Lovano decided that for this particular session they would broaden their scope to include music from all of Coltrane's musical periods, thus producing a wide-ranging exploration that showcases six distinctive phases of his legacy. "Each period represents such a different outlook and concept that it's incredible to imagine that one man accomplished all of this in such a short period," says Liebman in theCompassion liner notes.
Compassion opens with "Locomotion," one of Coltrane's many compositional twists on the blues that first made an appearance on Blue Train (Coltrane's only Blue Note recording) in 1958. "Locomotion" not only sets the stage forCompassion, but also served as an integral jumping off point in Coltrane's musical development. As Lovano states in the liner notes, many of the intervals heard on "Locomotion" can be found in later Coltrane works — the main theme of A Love Supreme being just one example.
Compassion moves forward with a ballad medley that includes the harmonically rich "Central Park West," featuring Lovano and "Dear Lord," which Liebman has referred to as "one of the most amazing compositions in the world."
The inclusion of "Olé" signifies Coltrane's well-documented interest in world music. A modal excursion with a Spanish tinged melody (borrowed heavily from the Spanish folk song "El Vito"), "Olé" served as a precursor to Trane's later explorations of other cultures (tunes such as "India," "Dakur" and "Brasilia" come to mind).
Named for Reverend Martin Luther King Jr., "Reverend King" is a completely diatonic study in free time that features a rare appearance of Liebman on flute, followed by "Equinox," which, like the opening track, is another version of the blues. The album then comes to a close with "Compassion," from which the recording gets its namesake, bringing us into Trane's late period (1965-1967) with the second movement of his Meditations suite. "Subsequent song titles point toward Trane's intense spiritual journey of this period - 'Amen,' 'To Be' and many more - all emphasizing the constant group interaction with little steady pulse or direct harmonic progressions," says Liebman.
"For an archival production, this might be the most recent recording Resonance has released to date, but we didn't want to treat it any differently than our previous efforts," says Executive Producer Zev Feldman. "I can think of no closer and devoted adherents to the music and legacy of Coltrane than Dave Liebman, Joe Lovano and this band." Feldman adds that within the booklet one can find a wealth of knowledge from each musician as they shed light on the influence Trane had on them and how his music still holds such influence fifty years since his passing.
Says Billy Hart in closing: "I just think the world is a better place when you hear Coltrane's music."
Review
Robbie Gerson
AUDIOPHILE AUDITION
There are many reasons for the enduring influences of John Coltrane. His short career (mostly 1955-1967) included being part of the first Miles Davis Quintet. His stint as a sideman was brief, mostly with Davis, Thelonious Monk and Dizzy Gillespie. But as a band leader Trane soared with highly elaborate compositions and a unique tenor saxophone style. His early training on alto and clarinet made Coltrane comfortable with upper register tenor play, unlike his contemporaries. He also popularized the utilization of soprano sax. Exemplary recordings for Blue Note (Blue Trane), Prestige (Coltrane), Atlantic (Giant Steps, My Favorite Things) and Impulse (Live At The Village Vanguard, A Love Supreme) rewrote the annals of jazz history. Coltrane's penchant for exotic composition and playing led him on a quest that started in bebop and hard bop, then made a wildly creative turn to modal, free form and avant-garde, exploring global musical context and eventually spirituality.
In 2007, BBC Jazz on 3 commissioned a tribute to John Coltrane with venerable saxophonists Dave Liebman and Joe Lovano. Honoring the 40th anniversary of Trane's passing, Liebman and Lovano rounded out their stellar quintet with Phil Markowitz (piano), Ron McClure (double bass) and Billy Hart (drums). Ten years later, Resonance Records has released this album, and and it is reason for jazz fans to rejoice. The opening track, "Locomotion" (from Blue Trane) is nothing short of fierce bop swing. Liebman and Lovano  start in unison, then alternate solos, prodding each other to instrumental heights. Markowitz takes his turn at 3:40 with percolating notation and well-placed chords. It is interesting to note that the players didn't take on the most recognizable Coltrane standards, but chose songs that reflect the compositional intricacy. The style juxtaposition of the two reed men pervades the "Central Park West/Dear Lord" ballad medley. Lovano is soulfully fluid on tenor throughout "Central Park West" (from 1964 Coltrane's Sound). Rather than imitate Trane's ballad aesthetics, Lovano glides through the number with some vibrato and subtle phrasing. Liebman (with graceful shading from Markowitz) offers a glowing soprano sax on "Dear Lord" (Transition 1965). Two outstanding interpretations, nuanced and melodic.
Showing off instrumental versatility, "Ole" (Ole Coltrane 1961) is intriguing. The opening is a combination of wooden recorder and flute. The Spanish-tinged themes are explored with a tandem of tenor (Lovano) and soprano (Liebman) in solos and counterpoint. Markowitz joins in with a punctuated, expressive solo. McClure finishes the jam with a concise riff. A "posthumous" selection, "Reverend King" ( Cosmic Music 1968) is also unexpected. Here Liebman and Lovano embrace the deliberate melody in unison on flute and alto clarinet respectively. Then some improvisational and harmonic runs highlight this contemplative piece. "Equinox" (Coltrane's Sound 1964) reverts to the vamp-driven bluesy edginess of Sixties jazz. Liebman is up first on dynamic soprano and is followed by Markowitz. Then Lovano contributes a muscular tenor solo. The quintet open and close in cohesive bliss. The finale "Compassion", (Meditation) is an extended (17:27) boundary-stretching free-form jam that gets underway with an elaborate four-minute Hart drum solo. There is nothing predictable about this cut.
Liebman and Lovano have captured the diverse musicality and artistry of Coltrane with daring instrumental prowess and artistic vision. It's been half a century since the death of the saxophone icon. His legacy will be eternal!
Phil Freeman
BURNING AMBULANCE
Saxophonist Dave Liebman might be best known for his tenure with Miles Davis, which lasted from 1972 to 1974. He first played on Davis's alienating, futuristic On the Corner; his is the first solo on the album, and he played it without headphones, totally unaware of what the rest of the ensemble was doing behind him. (He once told me there were so many keyboardists clacking away behind him, it sounded like he was in a room full of typists.) He's worked continuously since the 1970s, recording dozens of albums.
Joe Lovano also has an extremely deep discography; he's made close to two dozen albums for Blue Note alone since signing with them in 1990. In the late 1990s, he, Liebman, and Michael Brecker formed the group Saxophone Summit, which made its first album in 2004, backed by pianist Phil Markowitz, bassist Cecil McBee, and drummer Billy Hart. One of the pieces they recorded was a version of John Coltrane's "India." When Brecker died in 2007, Ravi Coltrane took his place, and on the group's second album, Seraphic Light, they recorded three of his father's later compositions, "Cosmos," "Seraphic Light," and "Expression."
In summer 2007, Liebman, Lovano, Markowitz, and Hart, joined by Ron McClure—who had previously succeeded McBee in Charles Lloyd's 1960s quartet—on bass, recorded a BBC radio session for the show Jazz on 3 in tribute to Coltrane, marking the 40th anniversary of his passing (he died in July 1967). That session has now been released on CD by the Resonance label, as Compassion: The Music of John Coltrane. (Get it from Amazon.)
The album's six tracks offer a concise summary of Coltrane's artistic journey, while avoiding obvious picks. It begins with "Locomotion," from 1957's Blue Train. Next, "Central Park West," from Coltrane's Sound (recorded in 1960, released in 1964), is combined with "Dear Lord," from 1965's Transition. The third piece performed is "Olé," from the 1961 album of the same name. That's followed by "Reverend King," from 1968's posthumous Cosmic Music; "Equinox," also from Coltrane's Sound; and "Compassion," the concluding segment of 1966's Meditations.
"Locomotion" is a fast, rocking blues, delivered in a hard-charging manner that could just as easily be paying tribute to the Johnny Griffin/Eddie "Lockjaw" Davis Quintet. The slow, meditative melody of "Central Park West" flows seamlessly into the emotional, but somewhat free ballad form of "Dear Lord," on which Markowitz's piano takes a dominant role, shimmering in a manner unsurprisingly indebted to McCoy Tyner. The original version of "Olé" was a modal vamp that took up an entire album side; here, it begins with Liebman and Lovano, on flutes, whistling past each other like jungle birds as Markowitz strums the piano's strings like a harp. It takes nearly 90 seconds for McClure and Hart to jump in and begin the churning groove that's maintained for the rest of the piece's 8:47 running time.
The final track, "Compassion," is the most explosive and ambitious, and the longest, running a daunting 17:28. Hart kicks it off with a tension-building drum solo before the saxophonists enter. Meditations was the last Coltrane album to feature Tyner on piano and Elvin Jones on drums, and the first to feature Pharoah Sanders as second saxophonist. Liebman and Lovano solo separately, but also embark on fierce unison lines (calling them "melodies" would be a stretch; their horns warp conventional harmony the way Sonic Youth's detuned guitars used to) and duo interplay, blowing past each other in flurries of notes. It's the perfect sendoff, ending the performance as close as possible to the this-universe-cannot-contain-my-music eruptions Coltrane himself was engaged in during the last three years of his life.
Tribute albums usually suck. And I've never had much interest in exploring Liebman's or Lovano's vast discographies. But this record somehow overcomes all of that; it's vibrantly alive, and well worth hearing whether you're a fan of the players, or of Coltrane, or just want to hear some great tunes (and some fascinating ideas) explored with palpable love and passion.
Cormac Larkin
IRISH TIMES
There is no shortage of tributes to John Coltrane but when those paying homage are Dave Liebman and Joe Lovano, two of the great saxophonist's most learned and gifted disciples, it's clear that there will be more than just music under consideration.
Coltrane's combination of instrumental virtuosity, tireless creativity and deep spirituality left its mark on the generations that followed him.
The six Coltrane compositions here - including Locomotion, Central Park West and Equinox – are given new life by two great saxophonists - with bravura support from pianist Phil Markowitz, bassist Ron McClure and drummer Billy Hart – who have been strong enough to drink deep from the Coltrane cup and come out the other side with voices of their own.
Filipe Freitas
JAZZ TRAIL
We couldn't have asked for better! Two veterans and top-notch horn masters like Dave Liebman and Joe Lovano playing together the bright music of John Coltrane in the commemoration of his 50th anniversary on Resonance Records.
Regardless their different styles, approaches, and timbres, the co-leaders seamlessly adjust their eloquent phrasing and give a new life to these iconic pieces.
Compassion: The Music of John Coltrane features the striking duo accompanied by the also experienced Phil Markowitz on piano, Ron McLure on bass, and the great Billy Hart on drums.
"Locomotion", an electrifying hard-bop tune first recorded in 1957 as part of the acclaimed album Blue Trane (Blue Note), immediately gets the band together for a 'crazy motion' as the title suggests. The vivacity that arises from the rhythm section's coalition instigates Liebman and Lovano to draw vigorous and articulated melodic sequences full of oblique angles and action-reaction momentum.
The effervescence winds down for "Central Park West/Dear Lord", a smooth medley where Lovano controls the first part with soulful enthusiasm while Liebman is in charge of finding benevolent melodies and take them to the second, as an ode to the Creator.
The mood changes once more on "Olé", a lavish modal piece that takes us to Spanish traditions, in the present case, more exciting and less harmful than their bullfighting. Sweet flute intonations set the right tone and are quickly joined by the percussive scratches drawn by the piano strings. Moments later, McLure and Hart underpin a Latin-tinged groove that invites the horns for an urgent, magical feast à-la Coltrane. The tune ends with McLure's bass ruminations.
Both "Reverend King" and "Equinox" bring hope into the world as true conveyers of a beneficial spiritual aura. The former, a push-pull rubato, is built with bowed bass, flute, and cymbal's splashes; the latter, flowing at a slightly faster pace than the original, is a minor blues coated with Liebman's rapturous soprano flights, Markowitz's poised linkage of chords and melodies, and Lovano's heartwarming tenor strains.
The rhythmic sophistication of Billy Hart stands out on "Compassion", an almost 18-minute devotion that also expands with the saxophonists' igneous phrases, which converge into unisons and then scatter up to uproars that go in and out of focus.
Liebman/Lovano quintet strikes with ravishment and gusto, showing their reverence for Coltrane's legacy while exhibiting their own special gifts.
In addition to knowing inside out the territory they're stepping into, refinement and dynamism became keys in the process.
Jeff Simon
THE BUFFALO NEWS
The glory of Resonance Records marches on. Its ability to find astonishing unreleased jazz performances from record labels, musician's agents, and radio stations the world over has resulted this time in a a feast.
This dates from a BBC broadcast in 2007 recorded in New York City and it's a two-tenor beauty. The idea that friends Dave Liebman and Joe Lovano recorded a tribute to John Coltrane 10 years ago and it took this long for it to be issued is more than a little depressing. Mostly the repertoire is early Coltrane, with the exception of "Dear Lord" from 1965 and the title tune from Coltrane's late-period record "Meditations." That concludes the disc and, as is always the case with Coltrane's career, "late Coltrane" is far more challenging than any other time of his career. And that's the way it is here. Even so, the playing, solo or in tandem, is exceptional from both saxophonists. (Some of the best Lovano I've heard in 20 years is here.)
The rest of the band is pianist Phil Markowitz, bassist Ron McClure and drummer Billy Hart. An exhilarating record in several different ways. It's a bit absurd we're just hearing it now. As always, the notes and interviews on Resonance Records continue to be exemplary and nonpareil.
4 stars (out of four)
Joel Roberts
NEW YORK CITY JAZZ RECORD

This powerful tribute to John Coltrane from two of his most noteworthy disciples was originally recorded for the BBC in 2007 to honor the 40th anniversary of the legendary tenor saxophonist's death. A decade later, as we prepare to mark 50 years since Coltrane's passing, the newly unearthed session is finally being released and is well worth the wait.
An outgrowth of the Saxophone Summit group (which at the time featured Liebman, Lovano and Ravi Coltrane, who replaced the late Michael Brecker), Compassion joins the formidable twin saxophone frontline with veterans Phil Markowitz (piano), Ron
McClure (bass) and the great Billy Hart (drums). The quintet offers a broad overview of Coltrane's remarkable (and remarkably diverse) musical legacy, with seven tunes representing the various creative stages of his far-too-brief career.
Opener "Locomotion" is the album's oldest track, dating back to Coltrane's landmark 1957 release Blue Train. After stating the hard-driving, hardbop theme, Liebman and Lovano immediately take the tune further out than the original, with freewheeling modern flourishes. A ballad medley follows, pairing "Central Park West" and "Dear Lord", seemingly incongruent compositions from different points in Coltrane's development, but shown to have much in common here. A rousing version of the Spanish-influenced "Olé" is next, highlighting Coltrane's growing interest in world music, while "Equinox" offers a modernist take on the blues. "Reverend King" and the title track represent Coltrane's exploratory late period, the former a complex, diatonic study with Liebman on flute and the latter a 17-minute group excursion introduced by a brilliant extended drum solo.
This is a heartfelt, inspired session by a group of artists clearly shaped and influenced by Coltrane and dedicated to carrying on his musical legacy. Half a century after his death, this recording serves as a reminder that the music of John Coltrane remains relevant, vital and very much alive.