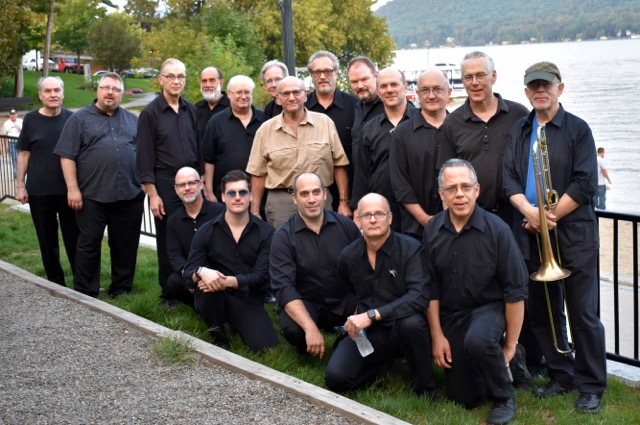 The New York-based David Liebman Big Band (DLBB) under the direction of saxophonist Gunnar Mossblad is made up of some of New York's most experienced and creative jazz musicians – performers who are recording artists in their own right. The DLBB features original compositions by Liebman, covering his various periods of his forty-plus year career. The arrangements by such well known artists such as Vince Mendoza and Jim McNeely feature Lieb out front on soprano sax. Their three releases: Beyond the Line (Omnitone); Live: As Always (Mama Records) and Tribute To Wayne Shorter (Mama)have received critical acclaim. What makes the DLBB's music interesting beyond the stellar performances is that each arrangment is by a different artist, therefore setting the stage for interesting stylistic contrasts in the repertoire,  all reflecting the grand scale of Lieb's eclectic tastes and skills. The DLBB breaks the bonds of traditional big-band sounds.
Click the following link to download the group bio:
big_band_text_for_site.docx
The David Liebman Big Band version of Jim McNeely's "Sing, Sing, Sing" arrangement from Beyond the Line received a Grammy nomination in 2004 for best arrangement.
Below is a video of the David Liebman Big Band performing Phillipe Under the Green Bridge featuring David Liebman (soprano saxophone) & Charles Pillow (oboe):
Reviews
---
---
Reviews of performance at Chris' Jazz Cafe, Philadelphia, PA (2010)

PHILADELPHIA INQUIRER
by Kent L. Carter
It was the night before Halloween, and at Chris' Jazz Cafe in Center City, a few jazz musicians were masquerading as players of traditional big band, avant-garde/free, classical, Latin, and jazz-funk fusion.
Over two sets Saturday night, the Dave Liebman Big Band did a good job of synthesizing these influences into a coherent whole. Liebman, a soprano saxophonist whose bona fides in the jazz world are a given, spent the evening presiding over worked-over versions of his repertoire. Liebman's soprano was, as always, precise and versatile. But it was the array of innovative arrangements played by the big band that best showed off the musicianship of the leader, his musical director (reed man Gunnar Mossblad), and the rest of his 19-man ensemble.
The standard "Sing, Sing, Sing" was instructive. While drummer Marko Marcinko took up the traditional Gene Krupa role, the song soon morphed into something quite different. Guitarist Vic Juris set the ambience with eerie, dissonant chime-like effects, establishing a chord structure and simultaneously playing off and throwing off the angular phrasing of the trombones and trumpets.
On "Philippe Under the Green Bridge," pianist Jim Ridl methodically and quietly set the tone while Charles Pillow, doubling on oboe, fought for primacy with Liebman, providing an understated foil for the leader's increasingly complex ruminations. The song showcased Liebman's ear for color and his lack of dependence – sometimes – on time; often Pillow, Ridl, and Liebman played while ignoring the time signature or adhering to it only loosely. And on the band's last song of the evening, contrasting tenor stylings by Tim Reese (sophisticated and polished) and Dave Riekenberg (bluesy honking) typified this ensemble's tolerance for different voices.
A guitarist is not often a featured player in such a large ensemble. But Juris was the glue. His electroacoustic musings ranged from otherworldly to sweetly melodic, often overshadowing bassist Tony Marino, his very capable bottom-range counterpart.
ALL ABOUT JAZZ
by Vic Schermer
On this night, bringing together some of the best and most creative musicians in the business, the Dave Liebman Big Band exceeded any and all expectations from a large group, in sharp contrast with many which, today, simply offer a potpourri of loud and flashy clichés. Liebman's troops are capable of a great deal more musical inventiveness and subtlety than most of the large ensembles, yet constitute a full eighteen-piece big band, with four trumpets, four trombones, five saxophones/reeds, piano, guitar, bass, and drums, with Liebman upfront delivering the goods on soprano sax and wooden flute. The heartbeat of the band is Liebman's small group personnel—guitarist Vic Juris, bassist Tony Marino and drummer Marco Marcinko. Brilliant and innovative musicians like pianist Jim Ridl and Charles Pillow in a dream saxophone/reeds section, make up a band that was sure to do some interesting and novel things.
At Chris' Jazz Café, the seventeen guys seemed remarkably comfortable, despite being squeezed onto a compact nightclub stage. Perhaps partly on account of the club setting, they were able to integrate the intimate co-improvisational virtues of a small group with the power and possibilities of a big band. They also owed this achievement, in part, to the concise and smart arrangements of Liebman tunes, composed over several decades, and scored for big band by the likes of Andrew Rathburn, the great Vince Mendoza, Tim Hagans, Pete McGinness, and the perennial Jim McNeely. The overall effect deserved comparison with the classic Thelonious Monk Big Band at Town Hall in 1959, where the great Hall Overton provided stunningly compact and beautiful arrangements, with Monk at the piano. When such energies are concentrated in a disciplined yet creative manner, music emerges which is memorable and even historical. This night at Chris—one of the few remaining jazz clubs in the once teeming Philadelphia—there was indeed such a feeling. Without a lot of fanfare, this band raised eyebrows and generated musical ideas which are likely to have a lasting influence.
The set started out with Liebman's "A Brite Piece," written during his early days with the Elvin Jones Quartet. A lively pace and sparse orchestration, along with Liebman's relatively modest improvisations, understated the case. Paradoxically, more heat was generated with Mendoza's rich changes on the balladic "Beyond the Line" which, after a quiet beginning from Liebman on a vertical wooden flute, led to some serious wailing on soprano sax and some rich follow-ups by others, including some brief but strikingly lyrical and all-too-short phrases from Juris. "Little Peanut" served as a paean to Liebman's then baby daughter, Lydia, by now a young woman who does some heady singing of her own. This piece, which started as a cute eight-bar melody, turned out to be a masterpiece of big band ingenuity, evolving—thanks to Tim Hagans' arrangement—into a musical version of a child psychology book, following the little kid around through various moods and playful interludes with clever, even brilliant, exchanges among the alto and tenor saxophonists. Indeed, this version of "Little Peanut" far exceeded those jazz tunes about kids like "Dat Dere" and "Little Man, You've Had a Busy Day," becoming a virtual improvised tone poem with a Monkish flavor.
"As Always" proved to be a beautiful ballad. "Elvis the Pelvis" rocked with light humor, fueled by Juris' so-not-Juris emulation of Presley's guitar, recalling the rock 'n' roll icon's classic body movements—and memorable grunts that passed for words. The set concluded with McNeely's remarkable arrangement of "Sing, Sing, Sing," which verged on a symphonic tour of the swing band era, with all the musicians taking brilliant choruses, and culminating in a Gene Krupa-like drum solo from Marcinko, one of the hottest, most inventive and versatile drummers on today's scene.
Liebman's always impressive brilliance and creativity were further reinforced through experiencing his Big Band live. The performance manifested the saxophonist's well-known ability to bring his groups along with him on his journey— here nurturing the big band modality along the lines of his own unique musicality, while allowing for considerable freedom among his musicians and, in this case, arrangers. Liebman's big band CDs Beyond the Line (Omnitone, 2004) and As Always (Mama Records, 2010) have captured their capabilities on disc. Their unique flavors shone even brighter in person.
JAZZ TIMES -REVIEW OF "BEYOND THE LINE"
by Harvey Siders
The level of musicianship displayed by the 18-piece David Liebman Big Band on its recorded debut, Beyond the Line (OmniTone), is nothing short of breathtaking.  I'm talking about every aspect of musicianship:  Liebman's astonishing soprano sax work; the imaginative colors captured by the six arrangers used for the session, among whom Jim McNeely has to be singled out; the concerted discipline of the East Coast players who wrestle with charts that constantly waver between tonality and atonality and seldom give sections the luxury of straightened swing; and the gifted soloists who are not intimidated by unorthodox changes that stray way beyond the line.  And conductor Gunnar Mossblad has translated Liebman's eclectic wishes as if he were the saxophonist's musical alter ego.
"Hiroshima Memorial" is not a mere track; It's a tone poem in which Liebman sets the mood with wood flute.  You can almost hear the airplane coming, the bombs falling.  "Done With Restraint" is akin to contemporary chamber music, often devoid of a tonal center and seemingly free of bar lines—and talk about contrast: it flows seamlessly into a sensuous acoustic guitar setup by guitarist Vic Juris for the Latin swinger "Pablo's Story," which is dedicated to Picasso. Stealing      the spotlight is McNeely's Grammy-nominated arrangement of "Sing, Sing, Sing," the only non-Liebman composition on the CD.  It's a brilliant update of riffs from the Goodman classic, heightened by Liebman and the band trading fours, twos, even ones, with every hair in place.  It's an amazing tour de force.
Among the soloists credited is "the band" for "Fracas," and justifiably so.  That is one fiendishly difficult Alan Baylock chart that former Liebman drummer Billy Hart described as "a fracas, man!"  True, but engineers Peter Karl and John C. Fishell keep this melee sounding crystal clear.
AUDIO MAGAZINE (GERMANY)-BEYOND THE LINE NAMED AUDIO JAZZ CD OF THE MONTH-2004
by Peter Steder
At all costs he does not want to be an innovator. David Liebman states: "There is no innovation; because we have totally exhausted the harmonic possibilities." Then what is so wild about this CD? It is the link between composition, improvisation and arrangement that is fascinating here. The "band within a band" concept emerges vividly. In "Hiroshima Memorial" one positively hears the bombs. Liebman's soprano sax or flute strikes up a lament over the requiem sounds of the band where the human voice fails. As an example of crossing the border ("Beyond the Line") the 57-year old New Yorker portrays the tradition-schooled avant gardist Picasso – and crosses Spanish folklore with neo-bop.  Wildly tumbling lines alternate with songlike melodies, which according to Liebman, are "the actual essence of Music." Lyrical soli in contrast to intricate rhythms and hot harmonies distinguish "Carissima," homage to Caris, the wife of the Bandleader – Grace is paired with brains. Even if  "technical perfection contributes nothing to the further development of an art form," as Liebman recently declared, he once again confirms his rank as one of the succinct saxophonists after John Coltrane – not by chance did Miles Davis hire him in 1971.  It's fantastic, how in "Sing, Sing, Sing," breakneck soli go head over heels with mimicking outbreaks of the sax section.  Six arrangers were at work; the leader himself kept out of it (different from the big band CD "Joy"; Candid/Fenn CCD 79531). This guarantees the diverse tone colors for all seven titles.
Music rating:  Outstanding (5 "ear" icons out of a possible 5)
Sound/recording quality rating:  Very Good (4 "ear" icons out of a possible 5)
ONE FINAL NOTE (blog) REVIEW OF "BEYOND THE LINE" CD
by David Dupont
No matter the setting, Dave Liebman has a keen ear for musical texture. That's true if he's playing solo, in duet with a percussionist or against an electronic backdrop. And it's just as true on the debut of the David Liebman Big Band. The album explores the traditional big band—that Wagnerian locomotive of massed trumpets and trombones softened by a saxophone section and colored by occasional woodwind doubling. I find it interesting that, aside from a little electronic keyboard, Liebman adheres to the standard big band instrumentation. Of course, this has its practical side. The charts fit the instrumentation of ensembles on college campuses or elsewhere that Liebman may front as a visiting artist. But ensembles hosting Liebman better be ready to do some serious woodshedding. These charts demand the kind of crack musicianship possessed by the crew that Liebman and director Gunnar Mossblad have assembled.
They have also called on a half-dozen top arrangers to set six Liebman originals and the big band warhorse "Sing, Sing, Sing", the latter of which was penned for a 1996 Benny Goodman tribute. Arranger Jim McNeely honors the song's rabblerousing heritage in a more contemporary way. The climax comes with Liebman trading licks with the massed saxophone section. He plays a bit and then all five toss back a raucous echo. Alan Baylock contributes "Fracas"; with its wild horn lines setting off drummer Marko Marcinko, it sounds like an up-to-the-minute take on "Sing, Sing, Sing". The session opens with Ed Sarath's harrowing "Hiroshima Memorial", which makes good use of the leader's wood flute. Liebman's haunting, hollowed-out tone is as powerful as the heavy brass and percussion punctuations meant to represent the bombing of the city. Liebman's flute sounds like the cry of a solitary survivor speaking for those who died. For the rest of the set, the tracks vary from the pastoral "Beyond the Line", arranged by Vince Mendoza, to McNeely's second contribution, the pointillistic romp "Done with Restraint". Throughout, the writers, who also include Henrik Frisk and Bill Warfield, keep Liebman as the center of attention; other than the leader, few others get a chance to solo. Guitarist Vic Juris is the second most prominent solo voice. On "Fracas" he rocks out; on "Pablo" he weaves intricate acoustic patterns.
Still, this is Liebman's show. His tart soprano works well piping out over swelling horns, even though the band largely eschews brass sledgehammer effects for richer, more nuanced chorale sounds. These textures help project the harmonic richness of the compositions. The ensemble and arrangers accomplish their mission of amplifying Liebman's musical vision.
ALL ABOUT JAZZ REVIEW OF "BEYOND THE LINE"
by Jack Bowers
Anyone who is familiar with David Liebman knows that the music he endorses and performs is sure to be cuttting edge – and such is the case with Beyond the Line, Liebman's first ever recording as a leader of his own big band. This is definitely ensemble music for the 21st century, and while it may not suit everyone's idea of what a big band should be or sound like, Liebman remains true to his artistic vision, which is to expand the boundaries of contemporary jazz by freeing himself and his companions from a number of time-honored structural and harmonic shackles while leaving in place those elements that separate jazz from other musical forms.
The result is an album of explicitly modern music that is sometimes pretty, occasionally unsettling, but invariably absorbing. As a non-musician, I can't imagine how Liebman's ensemble is able to unravel so handily the labyrinthine charts by Ed Sarath, Jim McNeely, Vince Mendoza, Henrik Frisk, Alan Baylock, and Bill Warfield; my hat's off to them for not only deciphering Liebman's elaborate blueprint but making the enterprise seem scarcely more taxing than a stroll in the park. Due credit must be given to longtime colleague Gunnar Mossblad, who ably directs the band while playing alto who ably directs the band while playing alto and soprano sax in its top-drawer reed section (a phrase that accurately describes the brass and rhythm too).
Liebman wrote the grimly evocative opener, "Hiroshima Memorial" after visiting that shrine to World War II's egregious devastation some two decades ago, and it is presented here in Sarath's graphic arrangement. Liebman's wooden flute introduces and ends the mournful piece, and here, as in most numbers, his soprano saxophone is prominently featured. Mendoza scored the lyrical "Beyond the Line," McNeely "Done with Restraint" (which can be interpreted either of two ways) and the durable Louis Prima vehicle "Sing, Sing, Sing," on which drummer Marko Marcinko resides comfortably in the driver's seat. Guitarist Vic Juris is showcased on "Beyond the Line" and Alan Baylock's strapping arrangement of the unruly "Fracas," pianist Jim Ridl on the mellow "Carissima," written by Liebman for his wife, Caris, and arranged by his student, Henrik Frisk. The finale, "Pablo's Story," is an ambitious eleven-minute homage to the late Pablo Picasso, tastefully scored by Warfield and embodying agreeable solos by Liebman and Juris, whose seductive guitar introduces its haunting theme.
Those who are partial to Basie, Herman, Kenton or Buddy Rich may wish to leave Beyond the Line off their holiday shopping list, while those who favor Maria Schneider, Dave Holland, Carla Bley, George Gruntz, David Murray, Pierre Dorge, Anthony Braxton or the Vienna Art Orchestra should seek it out without delay.