Besides Expansions and the Big Band (DLBB), Lieb collaborates with his peers and long time associates in a variety of musical settings, each with a different twist.
–SAXOPHONE SUMMIT with Joe Lovano, Greg Osby, Billy Hart, Cecil McBee, Phil Markowitz
–QUEST with Richie Beirach, Ron McClure, Billy Hart
-NEW LIGHT with Adam Niewood, Gene Perla, Adam Nussbaum
–We3 with Steve Swallow, Adam Nussbaum
–DIFFERENT BUT THE SAME with Ellery Eskelin, Jim Black, Tony Marino
–DUOS with pianists Richie Beirach, Marc Copland, Phil Markowitz
Saxophone Summit
---
THE SAXOPHONE SUMMIT WITH DAVE LIEBMAN, JOE LOVANO, GREG OSBY, PHIL MARKOWITZ, CECIL McBEE AND BILLY HART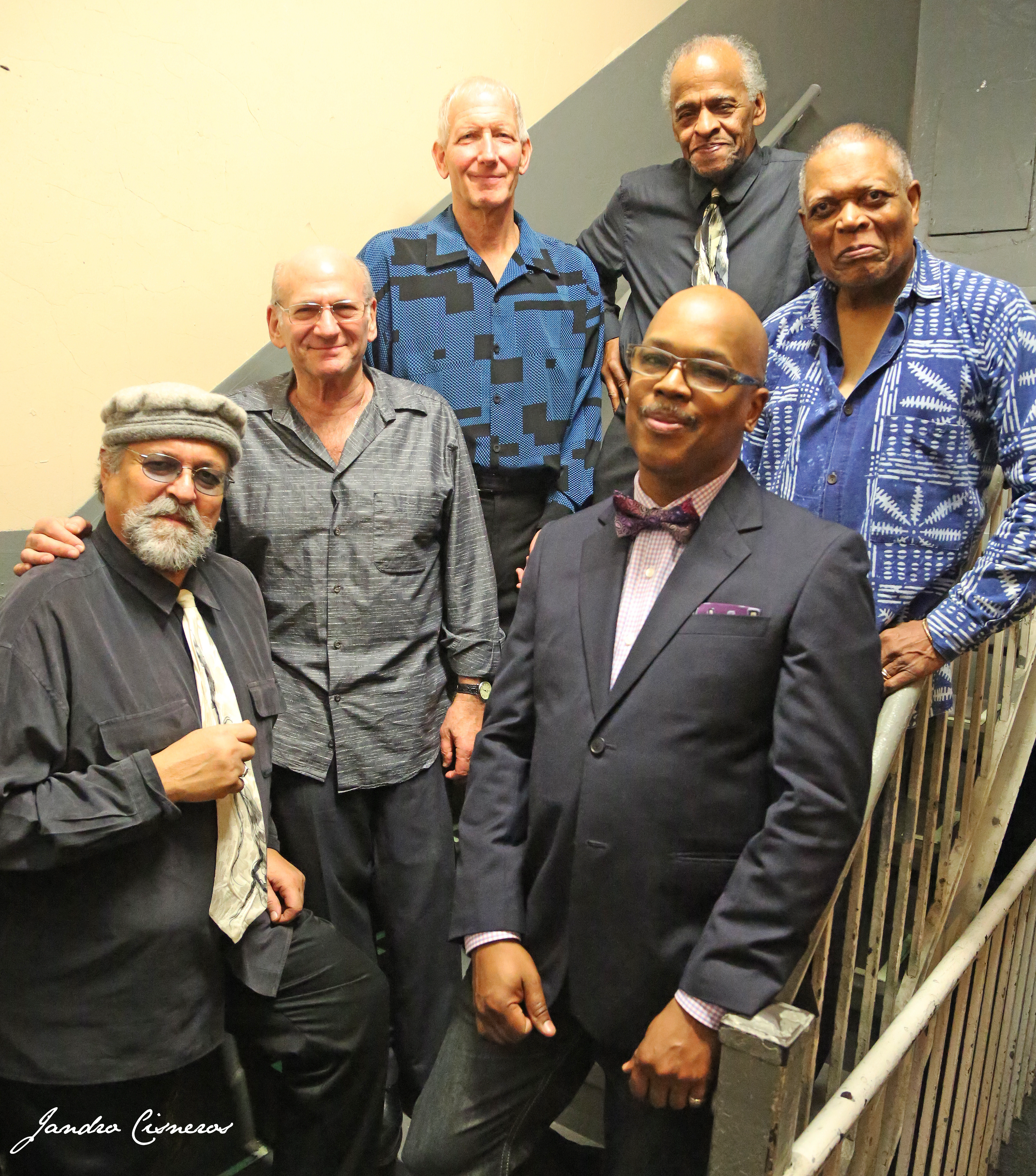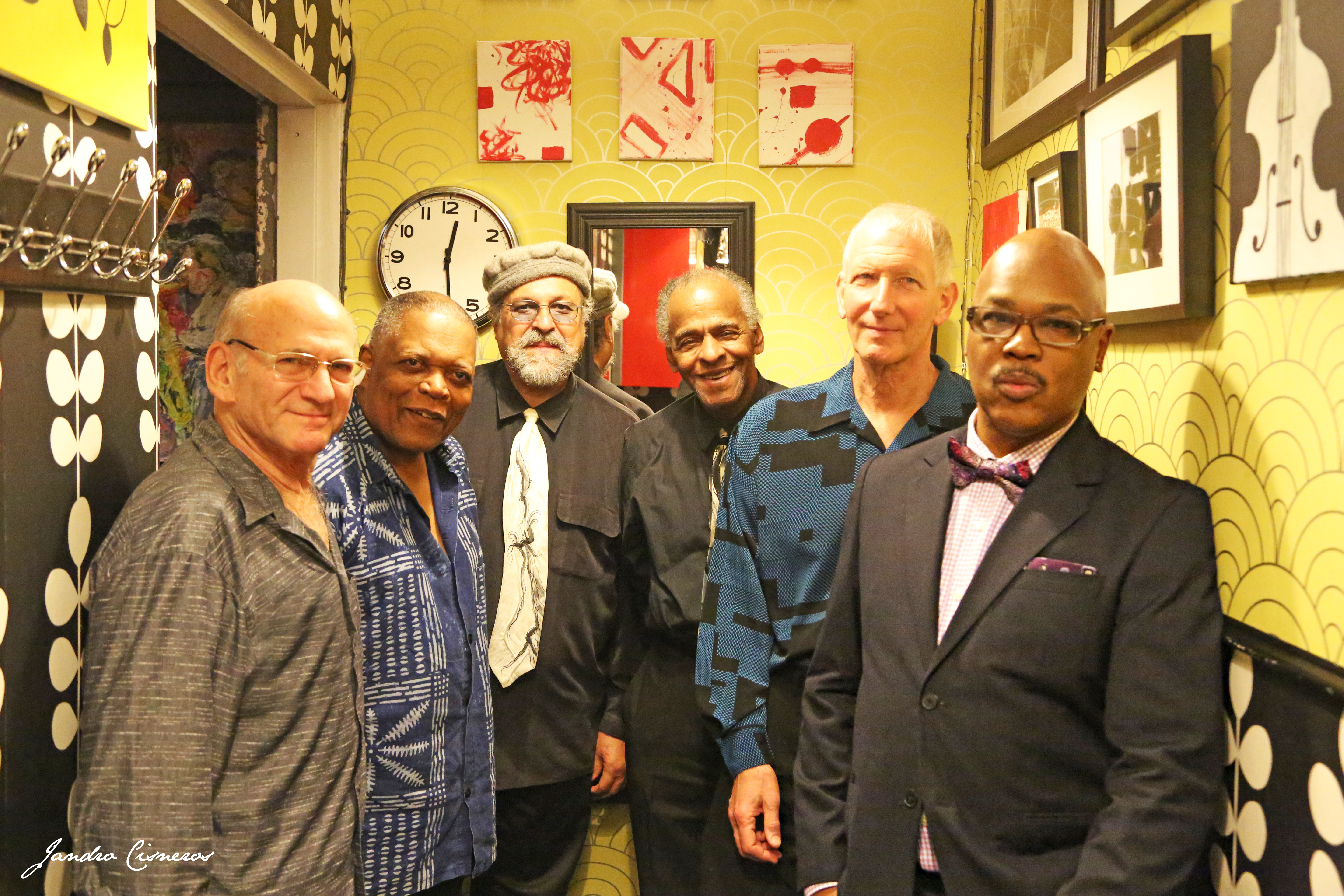 Originally formed in the late 1990's featuring Joe Lovano, Mike Brecker and Dave Liebman, the group celebrates the spirit of the late John Coltrane period as well as original music that captures the feeling of the New York "loft" scene in the 1970's. This was a period when many New York-based musicians cut their teeth in jam sessions with an emphasis on the collective free jazz style. With newest member Greg Osby as the third saxophone voice and featuring one of the most experienced rhythm sections in jazz (pianist Phil Markowitz, drummer Billy Hart and bassist Cecil McBee), the music of the Summit is intense and revelatory. The group has three recordings: "Gathering Of Spirits "  "Seraphic Light" (Telarc) and "Visitation" (Artist Share).
For the history of this unique group Click here
REVIEWS
New York Jazz Record, January 2016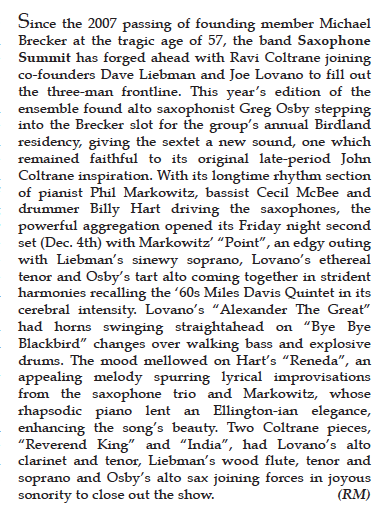 REVIEW FROM DETROIT JAZZ FESTIVAL 2013
By Michael Taeger
Saturday's headliner at the JP Morgan Chase Main Stage was Saxophone Summit: Lieb, Joe Lovano, Ravi Coltrane, Billy Hart, Cecil McBee, and Phil Markowitz. This burnin' 75-minute set consisted of four tunes from the group's debut album Gathering of Spirits: "Alexander the Great," "The 12th Man," "Tricycle," and Trane's "India." After a bit of a loose start – mainly because of sound – it was off to the races with "Alexander the Great," and the momentum let up not once. It may have just been the mix (i.e., balance) but it sounded as if the scoring was a bit different in parts. Either way I liked it. Cecil McBee's dark bass lines gave the set a sinister undertone which I greatly enjoyed, and Jabali's driving yet unpredictable drumming continually propelled the group forward. And hats off to Phil Markowitz for such tasteful accompanying. He's unafraid to both fill out the texture with dense harmonies and not play at all, and he knows exactly when to do both. "Tricycle" was perhaps the highlight, as each saxophonist got an opportunity to play in his own style – separate from the others – within the same piece. Lieb and Markowitz played a lovely improvised duo that could be transcribed and held up against most contemporary classical compositions; Lovano nimbly let loose over McBee and Hart's drunken dance; Coltrane and Hart created an intense, fiery atmosphere reminiscent of the elder Trane and Elvin Jones. This led into Trane's "India," featuring Ravi on sopranino (with a great tone, something rarely heard on that instrument!), Lovano on tenor, and Lieb on soprano (and wood flute for the intro). Whatever was left of the metaphorical roof was decimated with Liebman's final solo and Billy Hart's drumming.
Quest
---
QUEST WITH RICHIE BEIRACH, BILLY HART, RON McCLURE
This historic group from the '80s reunited in 2005 after a fifteen year hiatus. Four individual stylists whose credits cover the history of jazz in the past fifty years, Quest is known for its wide range of expression from intense burning jazz to lyrical ballads along with re-arrangements of standard tunes, always with a singular personality. Their latest recording is on the ENJA label "Circular Dreaming"-Quest Plays Miles '60s, a tribute to that seminal band.
REVIEWS
REVIEW FROM  DETROIT JAZZ FESTIVAL 2013
By Michael Taeger
On Monday, Quest was featured at the Carhartt Ampitheater Stage, and it was a wonderful way to complete this triptych. Quest is a hard-charging acoustic quartet consisting of Liebman, Beirach, Billy Hart, and Ron McClure. Originally running from the early '80s to '91, Lieb exclusively played soprano with the group until the 2005 reunion. Living in Michigan, I thought I'd never be able to see this group without traveling to the east coast or overseas. (I've contemplated the former once or twice in the past.) Seeing them perform was a masterclass in ensemble communication. (The same could be said for the Lieb/Beirach duo and the now-defunct Dave Liebman Group.) Their musical empathy with one another allows for near telepathy, making the music unpredictable. They play without a safety net, and as a listener you know you'll enjoy wherever they take you, even if it's a complete mystery. They opened the set with a no-holds-barred "Pendulum" – their de facto theme – with Liebman on tenor. After the melody's opening salvo, the group took off. Slowing things down a bit, next up was a treat for me: the Lookout Farm-era "M.D." (Liebman). Of course, even Quest's "slower" moments are rife with intensity, but they followed that up with a "Footprints" that took no prisoners – I thought his poor soprano would explode – and a "Re-Dial" that featured a complex collective improvisation. Beirach then demonstrated his command of both composition and improvisation on "Elm," a beautiful ballad and now standard. (Or, rather, what best suits this quartet as a "ballad," something still too strong for some listeners.) Much to my surprise, the group then played Ornette Coleman's "Lonely Woman," featuring Lieb playing the wooden flute exclusively. In my review of DLG's Ornette Plus – is mine really the only review of that album? – I praised DLG's ability to create an almost electronic soundscape. Well, Quest may have one-upped that rendition, as they created a complementary haunting atmosphere with Lieb at the helm but with acoustic instruments. No pulse, just flowing sound and texture. It was definitely a highlight of the weekend. They then concluded their set with a version Wayne Shorter's "Paraphernalia" that made Circular Dreaming's studio cut seem tame. Each time Billy Hart played his fleeting rock rhythms, I'm sure Danny Carey and Vinnie Paul felt a tremor in The Force. I'm surprised the stage remained standing at the performance's end.
Needless to say, it was an amazing weekend. I know that Dave is often considered "a musician's musician," which he definitely is, but I'm confident that he garnered many new fans over the weekend at the world's largest free jazz festival. The NEA Jazz Master consistently demonstrated to the Detroit audience why he deserves to be counted among the pantheon of the jazz greats.
QUEST AT BIRDLAND REVIEW
By Dan Adler
New Light
---
NEW LIGHT WITH ADAM NIEWOOD, GENE PERLA, ADAM NUSSBAUM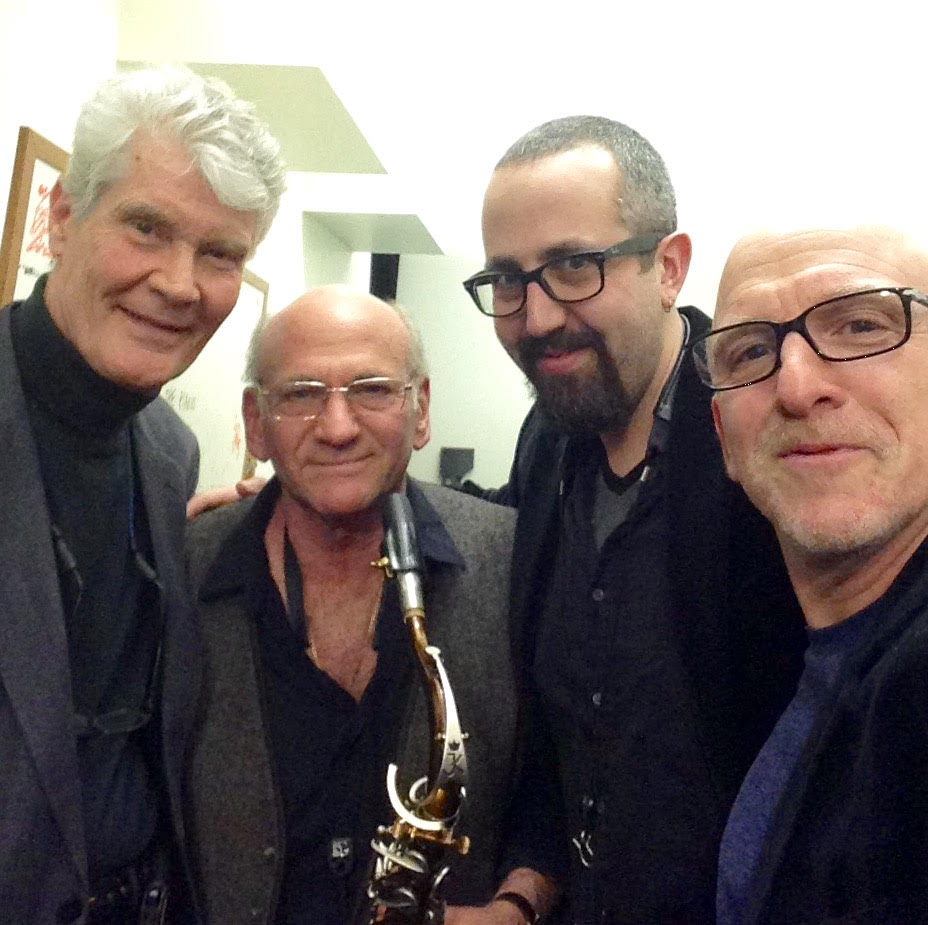 In September 1972, the Elvin Jones Group recorded three sets of music at the famous Lighthouse Club in Hermosa Beach, California. This recording went on to become legendary and   still referred to in iconic terms in the present era. Elvin, who made jazz history as a member of the Classic Quartet with John Coltrane began his role as a bandleader in the late 1960s with a succession of groups, most often using a saxophone(s) front line and no piano, which was still considered an unorthodox instrumentation at the time. With the hiring of bassist Gene Perla in 1971, followed by the saxophonists Dave Liebman and Steve Grossman, the group became an "item" on the jazz circuit for several reasons. Elvin was choosing the next generation of musicians to tour and record with while musically speaking, the language that Lieb and Grossman were exploring was at the time stylistically and later on historically categorized as the beginnings of the post Coltrane era, similar to what happened after Charlie Parker's passing in 1955. These two young saxophonists (both of whom would also be part of the Miles Davis Group during this time) were distilling the innovations that Trane handed down for generations to absorb.
Decades later, the group "New Light" celebrates that era with Liebman and Perla as part of this legacy, augmented by drummer Adam Nussbaum (who descends directly from the Elvin Jones school of drumming) and Adam Niewood, a contemporary saxophonist completely in touch with the past, present and future of the music. The repertoire looks back and forward at the same time, but one thing is for sure. The energy of "New Light" is palpable and visceral, harking back to a time when bands played on a night to night basis, employing the same repertoire and personnel, with the attitude of "taking no prisoners!!"  Experiencing "New Light" brings the listener back and forward at the same time.
We3
---
We3 WITH STEVE SWALLOW AND ADAM NUSSBAUM
Lieb's first apprenticeship gig was with drummer Pete LaRocca, Chick Corea and Steve Swallow in 1969. Drummer Nussbaum was with the Dave Liebman Quintet featuring John Scofield in the late '70s. This trio of long time associates features straight ahead jazz at a very high level playing many of Steve Swallow's classic and famous compositions. Their latest release is titled "Amazing" (Kind of Blue).
Different But The Same
---
Playing on the edge of avant garde and free bop, Different But The Same with Ellery Eskelin and Lieb on tenor saxes, Jim Black on drums and Tony Marino on bass recalls the great two tenor tradition (Dexter and Ammons,  Al and Zoot, etc.) with a completely contemporary sound. The group has three CDs on the Hatology label: "Different But The Same," "Renewal" and "Non Sequiturs" featuring original compositions and standards like Albert Ayler's "Ghosts" and Tadd Dameron's "Gnid."
(Pictured from l to r: Jim Black; Ellery Eskelin; Lieb;Tony Marino.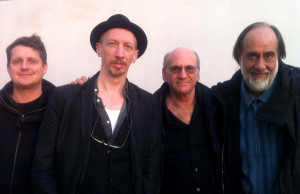 Duos
---
Lieb has a long-standing history playing duos with pianists, beginning with Richie Beirach.  Each relationship emphasizes a different aspect of his wide stylistic palette playing original compositions and selected re-arranged standards from the jazz repertoire.
Richie Beirach
---
Lieb's relationship with Richie Beirach dates back to the late 1960s eventually leading to Dave's first group "Lookout Farm" followed in the '80s by Quest. Their duo has always accompanied the group music, emphasizing a deep harmonic language combining aspects of 20th century classical thinking and jazz into a highly individual conception. Their latest recording on Intuition (Germany) is titled "Balladscapes." 
(Under the STORE tab, look for Downloadable Recordings to see more music by Liebman and Beirach.
.
REVIEWS:
REVIEW FROM DETROIT JAZZ FESTIVAL 2013
By Michael Taeger
Sunday's set at the Absopure Pyramid Stage was a duo performance by Lieb and longtime collaborator Richie Beirach. I was particularly excited for this concert because one of the first Liebman recordings I remember experiencing was Tribute to John Coltrane, which features a superb duo performance of "After the Rain" into "Naima." (And, having purchased so many Lookout Farm, Quest, and other related recordings since then, I was ready to see the real deal in person.) They kicked off their hour set with a lovely tenor/piano rendition of "'Round Midnight" that traveled quite a stylistic journey: a gentle ballad to bookend frenetic, chromatic solos, finished off with an exploratory cadenza. Liebman showed that, while he's a Mt. Rushmore-level soprano saxophonist, he's also dangerous on the tenor. Next was Beirach's haunting "Testament," followed by Wayne Shorter's "Prince of Darkness" and an intense "Footprints." Their duo rendition of "Footprints" was more intense than most versions I've heard by full groups, with Lieb's characteristic soprano stylings and the pair's ultra-chromatic approach in full flight. Closing out the set was Liebman's "Tender" and the Quest classic "Pendulum." The latter was a nice whetting of the audience's appetite for the next day's performance.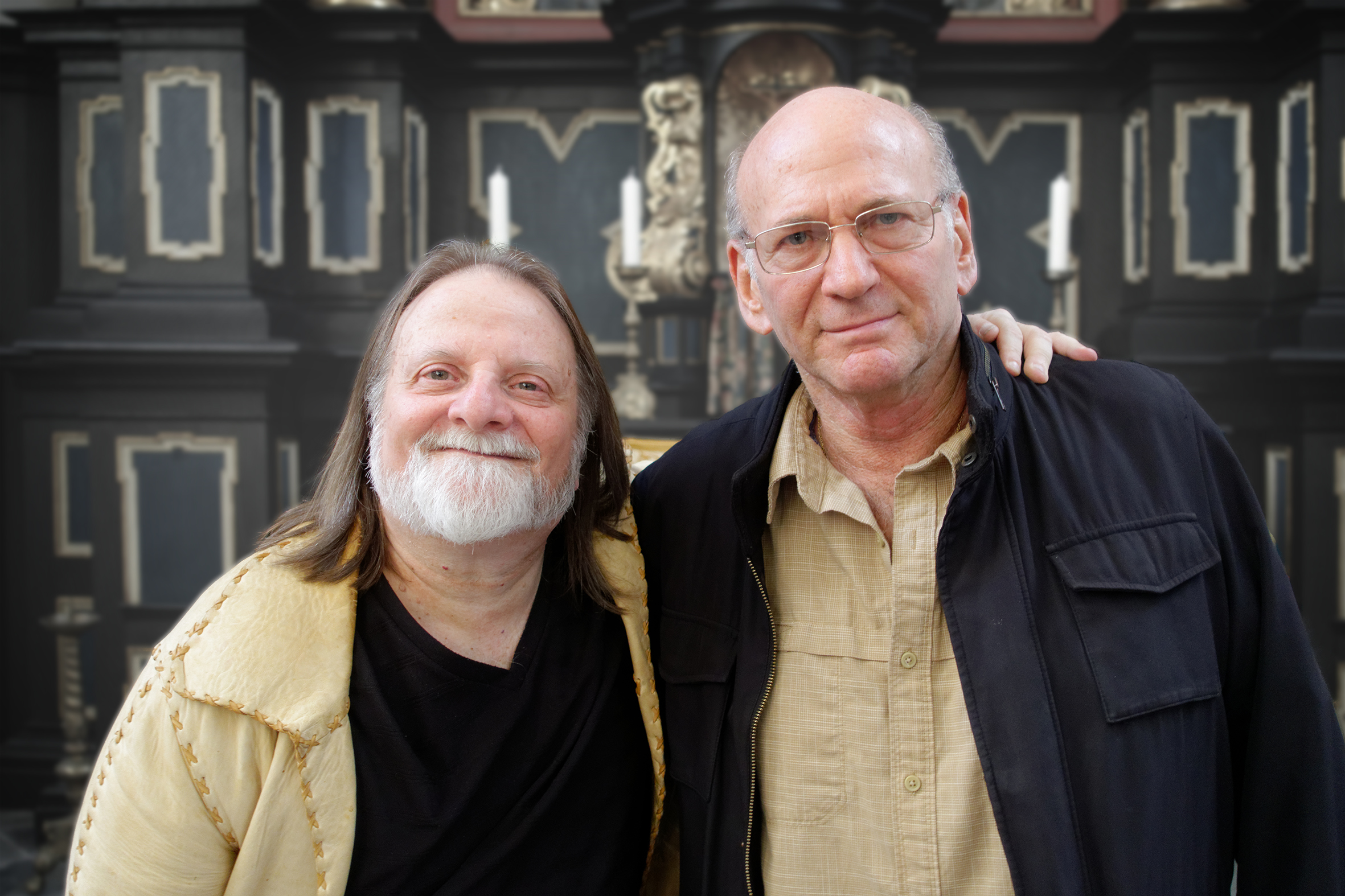 Marc Copland
---
With Copland, Lieb has an almost "impressionistic " relationship due to Marc's heavy Bill Evans/Herbie Hancock influence. This duo plays some very lyrical, soft edged music, again using standards and originals as the repertoire.
.
Phil Markowitz
---
As a member of Lieb's quintet in the '90s, Phil's compositions comprised a major part of that band's repertoire. In the duo context, his encyclopedic comprehension of the jazz and classical tradition combined with a feel for Latin and odd metered rhythms puts Dave  in a completely unique and different context from the combinations with Beirach and Copland. Their last duo recording is on the Zoho label, titled "Manhattan Dialogues." Phil is also a member of the "Saxophone Summit" and assists Lieb teaching the Master's course at the Manhattan School of Music.