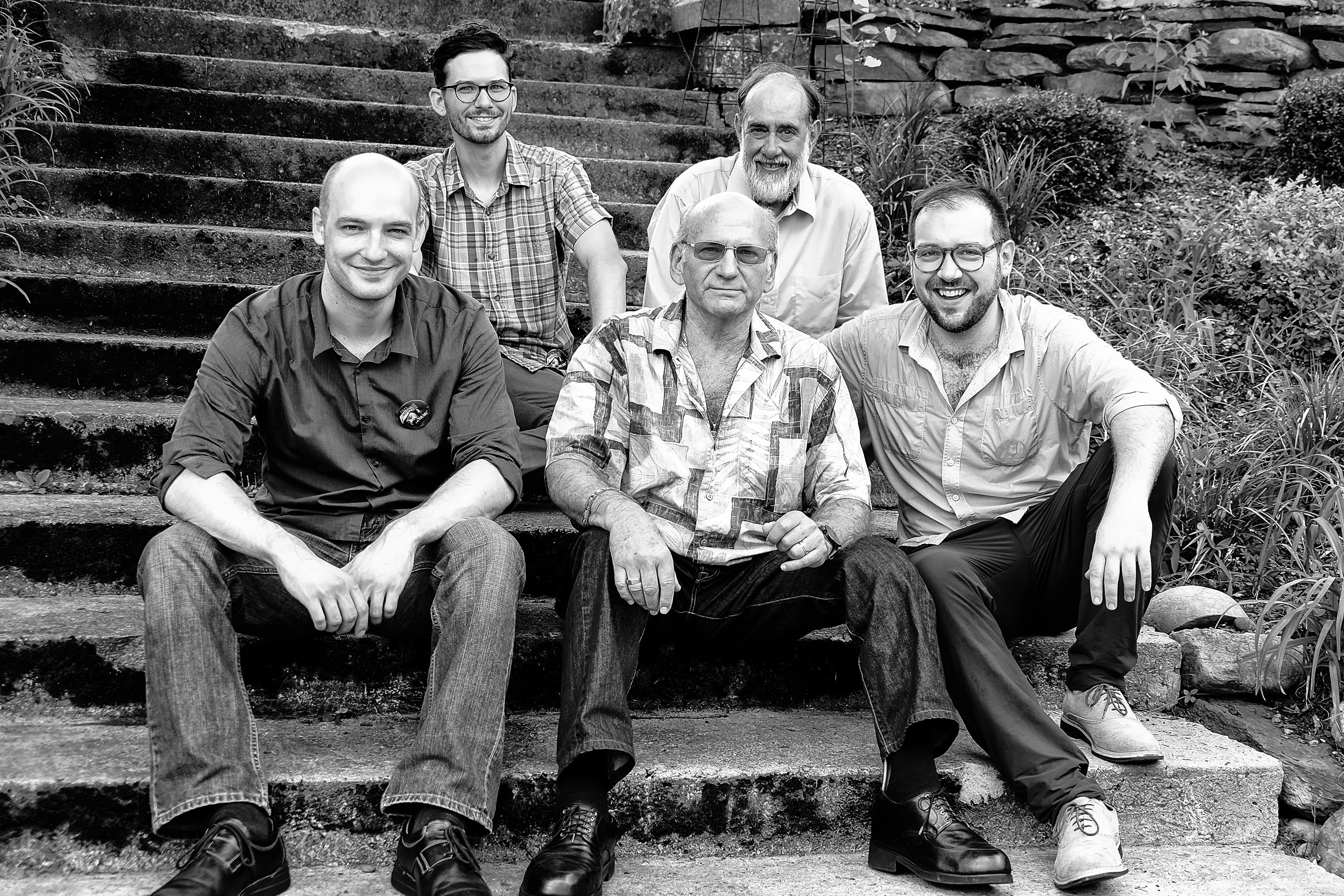 EXPANSIONS: THE DAVE LIEBMAN GROUP
Employing younger musicians in one's band is a time worn custom in jazz. In this case, NEA Jazz Master Dave Liebman is following in the footsteps of Miles Davis and Elvin Jones who mentored him in the early 1970s providing the kind of experience that can only happen on the bandstand. This is especially true in this era when the "academy/conservatory" is part of every young jazz musician's biography. Reaching across generations to both teach and learn is a time worn process in the jazz legacy. Along with long time Liebman bassist, Tony Marino and drummer Alex Ritz, the repertoire delves into the free music realm as well as the complex time signatures and harmonies being explored by the young artists of our time featuring original compositions and re-worked standards from the jazz repertoire. The group has three CDs released: "SAMSARA"  "THE PUZZLE" "EXPANSIONS LIVE" (Whaling City Sound).
EXPANSIONS:THE DAVE LIEBMAN GROUP
Three recordings available:
"SAMSARA" – debut release
"THE PUZZLE" – follow up recording
"EXPANSIONS LIVE" – (double CD: acoustic and electric)
All three available from Whaling City Sound and usual platforms.
DAVE LIEBMAN (soprano saxophone, wooden flute)
David Liebman's career has spanned over four decades, beginning in the 1970s as the saxophone/flautist in both the Elvin Jones and Miles Davis Groups, continuing as a leader since. He has played on nearly three hundred recordings with over one hundred under his leadership or co-leadership.  In jazz education he is a renowned lecturer and author of several milestone books: Self Portrait Of A Jazz Artist, A Chromatic Approach To Jazz Harmony And Melody, Developing A Personal Saxophone Sound, translated into several languages, in addition to teaching DVDs, journalistic contributions to periodicals and published chamber music. He is the Founder and Artistic Director of the International Association of Schools of Jazz (IASJ) existing since 1989. Awards include (Jazz Educators Network Legend of Jazz (2013); National Endowment for the Arts Jazz Master (2011); the Order of Arts and Letters (France 2009); Jazz Journalist's award for Soprano Saxophone (2007); Grammy nomination for Best Jazz Solo (1998); Honorary Doctorate from the Sibelius Academy (Finland-1997). He is currently Artist in Residence at the Manhattan School of Music and has consistently placed in the top three places for Soprano Saxophone in the Downbeat Critic's Poll since 1973, winning first place in both the Downbeat and Jazz Times Critic's Poll numerous times over the decades.
BOBBY AVEY (piano/keyboards)
Praised by the New Yorker Magazine as a " young pianist of invention and refinement," Bobby Avey has established himself as an emerging star in the jazz community. He graduated from Purchase University of Music Summa Cum Laude in 2007 after having collaborated with Dave Liebman on a recording "Vienna Dialogues" (Zoho Records released 2006) featuring adaptations from the Classical and Romantic era. In 2011 Bobby won the Thelonius Monk Competition for  original composition featured on his first recording as a leader "A New Face" lauded by the NY TImes as a "promising debut." His follow up, a solo recording titled "Be Not So Long To Speak"(Minsi Ridge) was praised Ben Ratliff in tthe Times:"…a solo piano record of mystery, patience, imagination and clear design…keep an eye on this guy." Most recently, Avey received the New Jazz Works Commissioning and Ensemble Development Grant from Chamber Music America which enabled him to travel to Haiti to study the Vodou tradition. This lead to the creation of an hour-long suite grounded in rhythms found in their traditional drumming. The suite entitled "Authority Melts From Me" pays homage to the Haitian Revolution and was premiered and recorded in 2012 featuring another rising voice on saxophone, Miguel Zenon along with guitarist Ben Monder. The New York Times wrote about Avey's Symphony Space concert of the Haitan material:"Avey isn't laying claim to an ancestral heritage, but rather digging into a tradition outside his experience, with scholarly enthusiasm."
MATT VASHLISHAN (alto sax, flute, clarinet)
Matt Vashlishan is currently located in the New York area where he is actively developing his reputation as a freelance musician and educator. He holds a DMA in Saxophone Performance from the University of Miami, a Masters degree in Performance from William Paterson University and a Bachelor's of Jazz Performance from the Eastman School of Music. Matt has performed with numerous artists such as Phil Woods, Bruce Hornsby, Patty Austin, Nester Torres, and many others. His large ensemble credentials include the Phil Woods Big Band, Michael Feinstein Orchestra, the Charles Tolliver Big Band and Larry Rosen's "Jazz Roots" including solo and ensemble work on  "An Evening with Dave Grusin." Matt's discography includes two CD's released under his own leadership as well as sideman work in a variety of styles. He has co-authored and collaborated with David Liebman on several publications available through Jamey Aebersold Jazz.
ALEX RITZ (drums/frame drum)
Alex started quite young, already sitting in and performing in the Hudson Valley area where he lived not far from New York City at age twelve. He went on to attend both the Oberlin Conservatory and College graduating with degrees in Music and Mathematics. While there he studied with jazz drum legend Billy Hart (long time associate of Dave Liebman in the groups "Saxophone Summit" and "Quest") and multi-percussionist Jamey Hadda (who was a member of the Dave Liebman Group for ten years). After graduating Ritz spent two years living in Shanghai, China, performing in styles ranging from jazz to Afrobeat including collaborations with players of traditional Chinese instruments. During this time, he appeared at festivals and venues in China, Hong Kong, Singapore and Switzerland. Now based in Brooklyn, New York, Ritz has been playing with a wide array of artists and ensembles.  He has been featured on several recordings, including Rafiq Bhatia's Yes It Will, which was listed among the Best Jazz Albums of 2012 by critics from The New York Times, Village Voice and Jazz Times. Modern Drummer magazine observes that Ritz's "pleasantly disorienting" playing "keeps the music aloft," and the New York Times speaks of his "drum rhythms in broken-field runs with stuttering delays before downstrokes."
TONY MARINO (electric and acoustic bass)
Tony is the rock of the new group with decades of experience in music ranging from folk, rock, country, bebop to free jazz. His playing credits range from Mose Allison to Phil Woods while his association with Dave Liebman extends well over twenty years and dozens of recordings and tours worldwide. As Lieb describes Tony: "I may have said three words to Tony about how or what to play in these years. He is the most instinctive musician I have known…something realized by all who hear him."
Reviews
Blog by Michael Taeger, 2015
Dave Liebman descended upon Ann Arbor's Kerrytown Concert House Tuesday evening with his new group Expansions, officially kicking off the band's fall tour in support of 2015's The Puzzle. The ~85-minute set was a shock-and-awe campaign of sound that covered a wide stylistic range.
This was my first time seeing Expansions in the flesh, and I'll go out on a limb and say that it was my favorite time seeing the maestro live. Expansions features Lieb (soprano saxophone, wooden flute), Matt Vashlishan (alto saxophone, flute, clarinet), Bobby Avey (piano, electric keyboard), Tony Marino (acoustic and electric basses), and Alex Ritz (drums, frame drum). Save Marino, who's played with Liebman for the last couple decades in DLG and other ensembles, the rest of the members are of a younger generation. And even though this band is only in its third year, the communication and empathy are top shelf.
With Lieb's mammoth discography and resume that covers just about every style, configuration, and name, he has maintained a series of primary groups over the years. I mention this because throughout Tuesday's performance I kept thinking that, at least as a starting point, Expansions is in some ways the eventual synthesis of three of those staple bands: Lookout Farm, Quest, and Dave Liebman Group. There was the electric & fusion explorations of Lookout Farm; the tasteful incorporation of the advanced harmonic — almost classical — vocabulary of Quest; and the eclecticism, adventurism, and telepathy of DLG.
But of course Expansions is much more than a synthesis of old projects. The addition of a second horn — sax or otherwise — has been part of some of his other projects (e.g., his work with Ellery Eskelin, Terumasa Hino, Steve Grossman, and of course Miles), but Vashlishan's deft multi-instrumental aptitude helps to greatly expand the ensemble's sound and palette. This is nicely complemented by the inclusion, at times, of electric keys and electric bass. The flexible orchestration gives this quintet an expansive sound. (No pun intended.) Finally, the more youthful lineup naturally brings with it a new range of musical perspectives, interests, and influences into the fold.
The fiery set featured six pieces, all but the final two of which were recorded for The Puzzle. Getting right to it, the band started with "Off And Off," in which the quintet gradually entering in canon via a 12-tone row and eventually uniting at the head's end and catapulting into stratospheric solos. This nicely set the tone for the rest of the evening: Liebman's slithering, forceful statements juxtaposed with Vashlishan's more angular declamations; Avey's equal parts nimble and dense accompaniment and lead playing; Ritz's command of both rhythm and melody on percussion; all atop Marino's foreboding foundation. Unlike other times I've seen Liebman, there was only one very fast burnin' section and it was reserved for the set's end. Instead this group lumbered mightily along, leaving nothing in its wake except for jaws on the floor. "Off And Off" was followed by "The Puzzle," allowing the ensemble – collectively and individually – to branch further out, with the listener on edge throughout as to what would happen next. Somewhat of an inverse of "Off And Off," the full band started the tune, eventually thinning out to solo piano in the middle of the improvisations, and building back towards the end.
For "Sailing," Vashlishan (the tune's composer) moved to flute and Avey to electric keys, giving the group a Lookout Farm-esque veneer. The soothing flute and soprano lines coupled with the dreamy harmonies offered a quick respite between more intense explorations. With Marino then switching to electric bass and Vashlishan hopping to clarinet, the band performed an inventive arrangement of "Danse De La Fureur" from Olivier Messiaen's Quatuor pour la fin du temps (Quartet for the End of Time). Ritz nearly stole the show with his impressively melodic drum solo introduction. Had Liebman not even announced the piece's name, I would've recognized it by Ritz's drumming and interpolations alone. It was both that spot on and creative. This gave way to a cacophonous electric romp that continued to anxiously build through the final statement. A furious dance indeed.
Sticking with the electric vibe, Avey's "Liberian Hummingbird" (from 2014's Samsara) did what seemed impossible at this point in the program: kicked the band into overdrive. The funk-laden, odd-metered vortex of a vamp swirled with dark intensity throughout, and compounded by both the return to a two-sax frontline and Avey's use of both acoustic piano and electric keys it provided the set's densest texture. It was simply enveloping.
Returning to an acoustic instrumentation, whatever stops remained were pulled out and disposed of with a heavy rendition of Coltrane's "India." Ritz began with a frame drum solo, eventually giving way to the primal cries of Liebman on wooden flute and Vashlishan on straw. This arrangement featured a slightly off-kilter take on Trane's famous melody over a plodding wall of sound. After Vashlishan's final solo and Avey's largely a capella, almost impressionist solo, Lieb and Ritz poured gas on the fire and offered up a barn-burning sax & drum duet, eventually leading to the group's final statements to close the show.
I've done my fair share of gushing about Dave Liebman on this site, including album reviews, live reviews, and more, and I suppose this entry is no different. However, it's certainly justified. And, as Tuesday's performance demonstrated, Lieb of course shares the spotlight with his four collaborators. Yes, collaborators — not just band members. Expansions is clearly a group effort, with the whole being greater than the sum of its considerable parts. I look forward to seeing the group again sometime.
MAINE TODAY – 2014
By Steve Feeney
It has been far too long since Dave Liebman last played in Portland. The former Miles Davis sideman has certainly not been idle, though, having continued to prolifically compose, record and tour as well as educate a new generation of creative musicians. To top it all off, the now 68 year-old New York native was proclaimed a Jazz Master by the National Endowment for the Arts in 2011.
After giving a workshop earlier in the day, Liebman entered the chapel of Woodfords Church on Friday, Oct. 10 night before a near-capacity crowd, full of anticipation as they sat comfortably, shoulder-to-shoulder in the pews. With just the slightest bit of amplification, the saxophonist's new ensemble, called Expansions, was able to fill the acoustically-friendly chapel with compelling sound. The quintet delivered a varied, and often intense, 90 minutes of jazz that freely referenced the past while also staying very much in the moment. The new twists and turns that the players put on classic tunes made them like new in many respects.
Two Thelonious Monk tunes provided jumping-off points for the group to inventively complicate Monk's already quirky compositions in fascinating ways. "Ugly Beauty," particularly, integrated ominous suspensions of time and a compelling noirish drama underneath it all. "Endive" gathered tremendous momentum as Liebman on soprano sax and Matt Vashlishan on alto sax deconstructed the melody.
Pianist Bobby Avey offered a section from his suite inspired by Haitian voodoo music titled "Continue To Ignore." Vashlishan, on clarinet this time, and Liebman on soprano sax, soared above a distinctive Afro-Caribbean set-up by Tony Marino on bass and Alex Ritz on drums. Avey's contribution, as a pianist, came from inside the rhythm. Later in the set, he would give glimpses of a more measured, lyrical side.
The young Ritz was a wonder throughout. His polyrhythmic approach firmly established the complex time signatures that, as Liebman noted at one point, the band frequents. His solos were brief but full of fresh ideas and, next to that for the leader's work, garnered the most enthusiastic applause from the crowd.
The leader reaffirmed his reverence for the music of John Coltrane by verbally introducing the band's take on "India" before launching into a musical introduction on wood flute. Ritz added tapping on a frame drum to the mix until, with subtle hand signals, Liebman got the band to gradually rev-up to an amazing intensity, all set against a droning undercurrent. Switching to soprano sax, the leader undertook a high-energy solo that definitely paid tribute to the master while also confirming his own remarkable skills. A few yeahs and wows from aficionados in the audience blended in with the overall strong applause for this number.
A slightly off-beat selection was Avey's arrangement of "Love Me Tender," the old tune associated with Elvis Presley. The band seemed intent on conjuring the spirit of the former teen idol with an overtone-heavy, bowed solo by Marino leading to some plaintive, floating harmonies between soprano sax and flute.
To conclude the performance, a take on the "Danse de la Fureur" movement from Olivier Messiaen's "Quartet for the End of Time," succeeded at reimagining the work's textures and colors through a jazz sensibility. it was further evidence of Liebman and company's wide reach and keen insights.
As the crowd departed the hall, more than a few sought out Paul Lichter of Dimensions in Jazz to thank him for bringing a jazz master back to Portland.
Recordings
---
Critic Quotes
---
"Playing with heat, passion and fire but not bombast, these forward thinking jazzbos are sure to keep Liebman's NEA Master of Jazz award shiny for many years to come."
MIDWEST RECORD
"….but this is no look towards the past. EXPANSIONS exists in the present, pushing boundaries, toying with expectations and letting the spirit of the moment determine the course."
ALL ABOUT JAZZ
"EXPANSION'S CD title is Sanskrit for the "repeating cycle of life, death and rebirth or reincarnation to which life in the material world is bound." True to its title, Liebman and the group consistently reinvent themselves in a search for new ground to explore."
NYC JAZZ RECORD