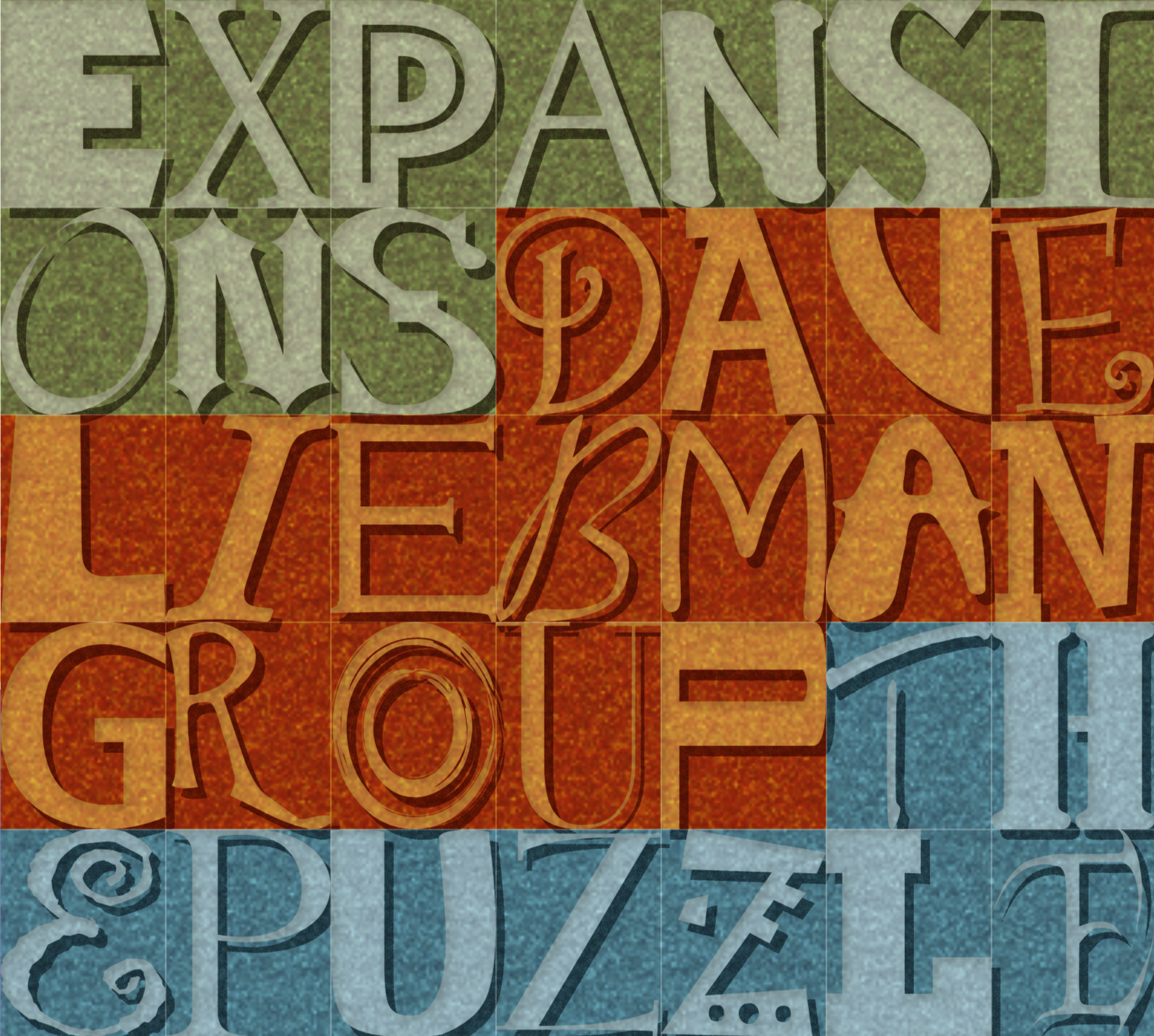 The Puzzle
Expansions: The Dave Liebman Group
Dave Liebman (soprano saxophone, wooden flute)
Bobby Avey (piano/keyboards)
Matt Vashlishan (alto sax, flute, clarinet)
Tony Marino (bass)
Alex Ritz (drums/frame drum)
Track Listing
Hat Trick
For J.A.
Vendetta
Good Bait
Sailing
The Puzzle
Off Flow
Continues to Ignore
Off and Off
The Thing that Wouldn't Leave
Danse de la Fureur
Liner Notes
Understanding the concept of The Puzzle, Lieb's second "new" group recording is simple: As he states: "Improvising is a matter of solving a puzzle." Yes, of course it is. The difficulty lies in the execution and that's when the fun begins.
The Puzzle, EXPANSION'S new recording on the Whaling City Sound label centers on the construction skills of the group featuring five extraordinary musicians—Lieb on soprano sax and wooden flute; Matt Vashlishan (reeds); Bobby Avey (keys); Tony Marino (bass) and Alex Ritz (drums). Each one is a heavy lifter… each one a puzzlesolver. As the eleven tracks unfold, it's interesting and revealing to see how the puzzle analogy works. The musical elements get scattered about at the onset. Next, the improvisation and extrapolation are addressed as these pieces begin finding their place in the whole scheme. Eventually, it all comes together and the assembled puzzle gets an opportunity to shine.
With Liebman, a master improviser, showing the way, EXPANSIONS directs its energy towards dissembling and reassembling the vernacular of jazz. At the core, this group is an adventurous ensemble, eager to invent and constantly in search of new terrain to explore. Its debut album skirted the outer edges of new jazz interpolation and concepts with a profoundly intellectual approach to composition and improvisation. The Puzzle finds the band getting even deeper into the headier aspects of the process, daring each other to find fresh ways of considering the music at hand.
Songs like "The Thing That Wouldn't Leave" embrace that challenge. "The Thing" according to composer/bassist and long time Liebman associate Tony Marino, addresses the whole ever present matter of dissonance versus consonance. The opening track, "Hat Trick," penned by reed man Matt Vashlishan, is at first a playful romp with a handful of highly rhythmic and intervallic based motifs all coming from seemingly various directions, with the bass, piano, and sax all finally meeting up in the end. Album closer "Danse De La Fureur" is a Liebman-adapted track excerpted from an Olivier Messiaen composition written while this 20th century master master was a prisoner in a World War II prison camp. It is bruising and maniacal, dark and disturbing, uniquely Expansions-esque.
And so goes the entire recording. For those listeners who like jazz to tickle their cerebral cortex, that like a good challenge when they choose what music to listen to, Liebman has always been an excellent choice. Match Lieb's vast skills and energetic spirit with the accompaniment and contributions of the group members and you get The Puzzle, an intensely satisfying recording with all the right pieces coming together… a completed puzzle sure to please fans of contemporary and serious jazz.
Review
DOWNBEAT
by Howard Mandel
4 stars- Ace soprano saxophonist, uncompromising soloist, seasoned bandleader, exploratory composer-arranger, valued mentor- Dave Liebman fills all these roles on The Puzzle, the second album by his cross-generational ensemble Expansions. Now 69, Liebman leads keyboardist Bobby Avey, multi-reedist Matt Vashlishan and drummer Alex Ritz, all less than half his age, plus bassist Tony Marino, in his 50s, through an original  repertoire that's thoroughly up to date.
The quintet coheres, so all five players seem responsible for the texture of these performances. Liebman's title track evokes inquiry, the unit seeking a definitive solution. Marino's "The Thing" refers to dissonant chromaticism, though that's not evident without a liner notes reference.
The mix is transparent, even as the music grows dense with contrasting movement. Throughout, Liebman plays brilliantly, his musical thoughts, however complex, instantaneously translated into sound. And he's succeeded in figuring out how to help his fellow musicians do the same. Bravo!
JAZZTIMES
by Mac Randall
It takes no time at all for the five members of Expansions to demonstrate the impressive altitude of their collective musicianship. Right at the start of the album's opening track, alto saxophonist Matt Vashlishan's "Hat Trick", three elated melodic lines, played respectively by the saxophone (Liebman on soprano, along with the composer), piano (Bobby Avey), and bass (Tony Marino), edge and bounce off each other in close, often clashing harmony. "The melodic order and material from Messiaen's 5th mode of limited transposition was selected from a hat at random," Vashlishan explains in the liner notes. Sounds questionable as described, but as heard it's instantly attention-grabbing.
Melodically, harmonically and rhythmically, "Hat Trick" and the 10 tracks that follow it score high on the complexity scaler, but listening to them is a pleasure rather than a chore, much like... well, piecing together a good jigsaw puzzle. Libman's wistful solo on his own "Vendetta" is a standout, almost more of a probing conversation with Avey than a separate statement. The whole group gets in on the chatter during a woozy rendition of Tadd Dameron and Count Basie's "Good Bait," playing over and around each other like a polytonal Dixieland band.
An overall sense of playfulness is strong in every composition here, but the going does get darker as the program continues. For Avey's "Continue to Ignore," inspired by the music of Haiti, Liebman and Vashlishan break out recorders and flutes, creating a profoundly spooky atmosphere. And the closing "Dance de la Fureur," taken from Messiaen's Quartet for the End of Time (yes, him again), is all pile-driving riffs in crazy time signatures, summoning up shades of Mahavishnu and giving the album a forceful sendoff.
ALL ABOUT JAZZ
by Victor L. Schermer
NEA Jazz Master saxophonist Dave Liebman has kept his music alive and generative for five decades with a prolific recording output, forming signature groups that push the musical envelope, and advancing new ideas within time-tested parameters. His current group, Expansions, allows him to interact with younger musicians, both as a mentor and as a way of exposing his creative impulses to new influences. "Young" in jazz doesn't always mean newcomers— these guys are consummate and seasoned players, and they love to explore novel possibilities. And Lieb's old standby, bassist Tony Marino, is no spring chicken. On this, their second release, following Samsara (Whaling City Sound, 2014), they take paradoxical, incomplete musical statements (instead of basic melodic lines) and see what they can do to live in the uncertainties or sometimes to resolve them. It's an idea that goes back to J.S. Bach, it is a noble part of the jazz tradition, and it may be why the album is called The Puzzle.
That process is exemplified in the title track, "The Puzzle," which starts out as a series of banged out dissonant chords with an offbeat syncopation by pianist Bobby Avey, a statement which is then woven into a series of deviating blues improvisations by Liebman on soprano saxophone, followed by Avey's Debussy-like piano etude that evolves into an upbeat improvisation that gains in intensity and leads into Matt Vashlishan's alto saxophone bebop references. But the piece ends with giant step intervals that deconstruct the mainstream effect, leaving the listener puzzled. The styles change in a zig-zag fashion with each chorus, which has the effect of a Zen koan: think -but don't think.
The one exception to this dynamic is a lively version of the Tadd Dameron standard, "Good Bait," which is improvised "in the old fashioned way" with trading choruses and a straight-ahead rhythmic pulse. It is sheer fun and a nod to the bygone time when you could just snap your fingers, relax, and enjoy the swing.
The concluding track, "Danse de la Fureur," is based upon a movement from Olivier Messaien's Quartet for the End of Time. As arranged by Liebman, it becomes a contorted, twisted apocalyptic fall into the darker regions of the underworld. It goes wild with sonic effects that make the surprises and shocks of the rest of the album seem mild by contrast.
On first listening, this album disturbs the listener's expectations in ways reminiscent of "free jazz" -an unfamiliarity stemming from a lack of expected structure. But after a couple of replays, the enjoyable feeling of familiarity appears. This is because of a not-so-carefully guarded secret of Dave Liebman. As far out as he goes with his advanced excursions, underneath there is always the anchor of the blues and the pentatonic scale of impressionism and the American Songbook. Add more than a touch of Monk, as this album does, and you're back home in your comfort zone.
CHRIS SPECTOR
Midwest Record
It's just a personal preference, but as killer an improviser that Liebman is, I like his 'friendlier' recordings. This set strikes an interesting balance in that his improv side leads the way but his friendlier side keeps a hand on the wheel. As opposed to this being a something for everyone record with nothing for anyone, it feels like Liebman brings both sides of his brain together in order to bring both sides of his audience together---and it works. Way out music that doesn't leave half the audience looking at their watch? That's the real news here as a new jazz genre is born. Tasty stuff from an acknowledged master, Liebman has crafted an unknockable recording. Check it out.
JAZZ DA GAMA
by Raul Da Gama
Dave Liebman is one of the greatest relatively unsung masters of the saxophone. True, he has been honoured by the NEA and is beloved of the cognoscenti, but as saxophonists go in this generation, he appears to be less recognised for his brilliant virtuosity and rare gracefulness. In his hands, the straight horn finds one of its finest exponents. Only Wayne Shorter is a rival. Like Mr. Shorter, Dave Liebman is also an important composer. His work bristles with genius and is a miraculous balance between simplicity, depth and virtuosity all in the service of expression. He uses the full range of his beautifully voiced horn to full advantage. His rubato is subtly, perfectly judged; the horn sings. This is what Dave Liebman is all about. Take a listen to The Puzzle and feel from Dave Liebman's fingers the iridescent showers of notes cascade with scintillating exuberance.
This album is one of Dave Liebman and Expansions The Dave Liebman Group's finest. We routinely say that about Dave Liebman's work as well as that of this ensemble but truth to tell each record is more powerfully affecting that the previous one. That's not surprising. Lieb, as he is called, is an inspiration to younger musicians. A nudge here and a hefty heave-ho there and the band is swinging with aplomb. Their outstanding execution of this repertoire, which Dave Liebman refers to as puzzles to explain the simple matter of the burgeoning improvisation that takes place here, boasts many impressive moments. It is tempting to pick out Tadd Dameron's "Good Bait" because the Bebop classic is simply breathtaking and played with slightly disembodied sonorities that it conjures up a kind of magic that is associated with very few renditions of such fare.
But there is much more to enjoy and celebrate here. Take, for instance, "The Puzzle," or even the two Off pieces – "Off Flow" and "Off And Off" – oblique masterpieces of Dave Liebman work where he pounces on the sudden loud declamations and dives into the wild scales, truly evoking the music's improvisatory genesis. The musicians also enjoy the act of performing the challenge of performance and this is clear from their fondness for expressive asides in the form of rubato, tenutos and rounding off phrases at the end of major sections of songs. Dave Liebman is in front of it all as he guilds melodic lines and also employs soft-grained broken octaves and wild glissandos to bring a sense of urgency to music that is both intellectual and intuitive.
And there is the underlining of the music with brilliant reharmonisations, underlined by slightly accelerating the tempo. The cheeky double notes played by soprano and alto saxophones accentuate the jazzy lightness and often contrasts with Dave Liebman's surging drive. Not surprisingly Dave Liebman also plays wooden recorder as if he were to the manor born. This is something that puts Dave Liebman in a class all his own and he should be better known for it. However, popular recognition – for that is important too – comes late to some of music's finest. So cherish this performance by a wonderful artist playing a varied programme and see how wonderful it is to discover the mixing of the sentimental, eccentric, Coltranesque and virtuoso sides to a master musician and his extraordinary group
CHRIS COOK
KIOS 91/5
David Liebman's Expansions Band reaches for new horizons on a new recording, The Puzzle.
The Puzzle is the second release from this band led by veteran saxophonist and educator David Liebman, soprano saxophone and wooden recorder, which includes up and coming pianist Bobby Avey, reedman Matt Vashlishan, drummer Alex Ritz and longtime Liebman associate, bassist Tony Marino.
Eleven selections are presented which are mostly originals by the band members. Highlights include a pulsing, bold original "Continues To Ignore", the deeply moving "For J.A." as well as the title track. There is also a re-arrangement of Count Basie's "Good Bait". The band skillfully presents performances that go from straight ahead to adventuresome left-field explorations, led by Liebman's bold, totally self-assured, voice on the saxophone. All in all, it's a disc that yields more delights and insights upon repeated listenings.
A tireless artist, educator and bandleader, David Liebman is one of today's leading Jazz artists. David Liebman is one of the foremost post John Coltrane soprano saxophonists, as well as a top tenor man and flutist. He has over 220 recordings to his credit, many with groups he has led over the last several decades. Early work with Elvin Jones and the Miles Davis Band of the 1970s gave Liebman international recognition; he has worked for years with the foremost jazz players on today's scene, including Chick Corea, John Scofield, George Mraz, Billy Hart, and many others. Liebman is one of the foremost teachers and educators in the jazz world, with master classes, lectures, seminars, books, audio and videotapes available for the aspiring music student.
MARK STRYKER
DETROIT FREE PRESS
The great news is not just that saxophonist Dave Liebman is returning to metro Detroit for the first time in two years, but that he's bringing along his new quintet, Expansions, which will be making its local debut on the heels of its newly released, exemplary recording, "The Puzzle" (Whaling City Sound). At 69, Liebman remains one of the most restlessly creative and distinctive soprano and tenor saxophonists in jazz. There's an intense and incantatory fury to his playing, balancing roiling passion with a super-sharp intellect. Recognized in 2011 as a NEA Jazz Master and also known as a leading jazz educator, Liebman has made a habit of throwing caution to the wind. He's explored myriad of styles and projects, from swinging acoustic post-bop to fusion and free jazz, and he's always challenging his own limits. Maybe the most dramatic example is that after having apprenticed in the early '70s with both Elvin Jones and Miles Davis and launching his own career as a leader, Liebman bravely gave up the tenor sax for 15 years beginning around 1980 in order to develop a more individual voice on the soprano and escape the shadow of his biggest influence, John Coltrane.Expansions suggests a similar willingness to push himself. For the first time Liebman has surrounded himself with primarily young, emerging musicians rather than his peers. While the band's flexible and diverse idiom isn't necessarily all that far removed from Liebman's previous group, the dialect and personalities have a different flavor from being more directly plugged into certain kinds of contemporary currents.On "The Puzzle" and the band's 2014 debut CD "Samsara," you can sense the leader relishing the chance to show the youngsters he can handle any of the rhythmic or harmonic twists they throw at him. Of course, it works both ways, and Liebman's focus, consistency and connection to the tradition push his charges beyond their limits too. Alto saxophonist Matt Vashlishan (who also plays clarinet and flute) provides a welcome front-line foil for Liebman's soprano sax and wood flute. Bobby Avey is heard on piano and keyboards. Veteran bassist Tony Marino is the one holdover from Liebman's last group, and Alex Ritz plays drums.
AUDIOPHILE AUDITION
By Doug Sherman
On the 65-minute The Puzzle saxophonist Dave Liebman and his current quintet Expansions pick up where they left off from their last outing, Samsara (Whaling City Sound, 2014). Samsara showed a band which embraced challenges, keeping the music alive and creative. During The Puzzle's 11 tracks Liebman (on soprano sax and wooden recorder), Bobby Avey (acoustic piano and electric keyboard), drummer Alex Ritz, multi-reedist Matt Vashlishan (clarinet, flute, alto saxophone, straw, EWI) and bassist Tony Marino (who uses both electric and acoustic basses) incorporate the idea of a musical puzzle into adventurous areas, exploring, reassembling and otherwise pulling apart the mystery of jazz improvisation and composition. Despite the heady material, though, the five musicians strive for music which engages, stimulates and holds listeners' attention.
The program is split between individual originals (two by Marino; four by Liebman; one by Avey; two by Vashlishan) and two covers. The opener, Vashlishan's "Hat Trick," certainly corresponds to the album's thematic aesthetic. In the liner notes, Vashlishan explains how the piece was formed by randomly selecting a melodic order and the material from a hat, and (in reference to the sports term about achieving a feat three times in a row), his composition consists of three different lines made from the same melodic fabric by means of dissimilar rhythms between saxes, piano and bass. The intricate number has a fast tempo, and while the bass, piano and twin saxes seemingly rush in diverse directions, everyone meets up at the end. On the other hand, Vashlishan's beautiful ballad, "Sailing" (no relation to Rod Stewart's pop hit) is less intellectual and more instinctual. This tune was initially done in 2009 (when it won an ASCAP award) and conceived for alto sax, guitar, bass and drums, but fits well into a quintet configuration spotlighting flute and electric keyboard, and provides a bit of a fusion taste.
The album's cerebral entertainment relationship comes to the fore during Liebman's title track, which he states gets its designation from the experience of playing through the harmonies derived from the question and answer melodic statement. This isn't an easy tune to absorb. It begins with Avey's loud, dissonant chords and a skewed cadence, followed by a progression of blues-tinted Liebman solos, and as the number grows more forceful Vashlishan kicks it up a notch on his alto sax with bop-esque lines. The veering variations may throw some listeners off, but the journey is worth the bumpy ride. A different kind of rhythmic complexity is at the root of "Off Flow," which Liebman recorded on his 1992 record, Turn It Around. That version had guitar and sax, while this new rendition takes advantage of two horns. The slightly off-center rhythmic impression was inspired by Brazilian artist Hermeto Pascoal, and like other tunes on this CD, there's a sense of fragments streaming independently and coming together. The shortest cut, "Off and Off," also has a convoluted construction, applying a 12-tone row ranged among the instruments in a contrapuntal approach which utilizes a melody with replications which serve as the basis for group collaboration.
Not all the tracks conform to the puzzle theme. Avey's folk-like "Continues to Ignore" is about apathy, specifically the obliviousness of many to Haiti's tragic history and the current condition of the island nation. Using rhythms and concepts borrowed from Haitian percussionists, Avey and the Expansions quintet build a lengthy and expressive declaration for understanding, peace and communal empathy. A different motivation fuels Marino's "For J.A.," which was penned for Philly-based pianist Jimmy Amadie (who passed away in 2013), who was Marino's muse and mentor, a friend who taught Marino nothing can stop an artist from reaching a goal, no matter the obstacle or pain. Like the other tunes, there is much harmonic interaction and rhythmic exchanges.
The two covers display the group's ability to modify other composers' work and put a unique stamp on them. The fivesome put a fun, upbeat spin on Tadd Dameron and Count Basie's "Good Bait," which was popular in the 1940s and 1950s (previous versions were done by Charlie Parker, Fats Navarro, John Coltrane and others). On "Good Bait" the rhythm changes are accomplished by way of two keys, and act as an establishing point for group discourse. The CD closes with "Danse de la Fureur" (translation: "Dance of Fury"), which is a prominent and very modern transformation of an excerpt from Olivier Messiaen's Quartet for the End of Time. This tune has a churning, electronic-laced drive powered by digital manipulation, Ritz's skewed percussion and a pulsing rhythmic groove via the horns, drums and bass. It's a dark and nearly brutal finish, and also unforgettable.
IMPROVIJAZZATION NATION MAGAZINE
By Dick Metcalf
I can't tell you how many times I've reviewed great jazz from Dave, because it's been so many… on this new release, with Matt Vashlishan on reeds, Bobby Avey on keys, Tony Marino on bass & Alex Ritz on drums, Dave's superb sax work is truly at it's best… 'tis indeed a "puzzle", but true jazz fans will be riding the wave until it's solved (or resolved, as the case may be).  The light touch on the into to "Sailing", rapidly evolves into some of the sweetest improvised jazz you'll hear this year (I just loved Bobby's electric keyboards on the tune)!  If you're looking/listening for tuneage that's closer to "standard" jazz (though it's not at ALL standard), you'll dig deeply into "Good Bait", a tune that moves like the wind.  From a pure jazz energy standpoint, though, it was the splendid high-energy opener, "Hat Trick' that got my vote as personal favorite of the eleven puzzle pieces offered up for your improv jazz needs.  I give Dave & his splendid/veteran crew a MOST HIGHLY RECOMMENDED, with an "EQ" (energy quotient) rating of 4.99 for this great release.
CADENCE MAGAZINE
Bob Ruesch
DAVE LIEBMAN [ss/wooden recorder] rarely makes recordings that do not reward listening assuming you enjoy the genre he is addressing. He has well over 100 sessions under his own leadership and hundreds as a sideman or as a hired gun. His latest is THE PUZZLE [Whaling City Sound 075]. The puzzle, as Liebman writes, is working out the challenge of improvising in the context of jazz music, or any music by that reasoning. That challenge is addressed, on this spring 2015 recording, on 9 tracks by Liebman. Bobby Avery [acc p/el  p], Matt Vashlishan  [clt/flt/as], Tony Marino [b], who along with Alex Ritz [drm] make up Liebman's group, Expansions. Two other tracks are Tadd Dameron's, "Good Bait" and Messiaen's "Danse De La Fureur". This is not a blowing session but a carefully laid out and arranged set, which moves along lightly and brightly. Liebman is a many-sided musical figure, this well represents one of those sides, and once again challenge met.
ALL ABOUT JAZZ
By Bud Kopman 
The Puzzle is the terrfic follow-up recording by David Liebman's new group, Expansions, the first being Samsara.
No sophomore jinx here; if anything, the group has coalesced further and is even tighter. To throw out a (perhaps meaningless) label, this music could be called hyper-bop in its mix of well-placed dissonance, rhythmic displacements and the pure joy of blowing. Yes, it can get heady, but this music is anything but sterile and passion, of either high or low energy is always palpable. Music is meant to communicate emotion through sound, and The Puzzle most certainly does that, albeit in an entirely different way than say, pianist Lucian Ban's latest, Songs From Afar.
The very title indicates the mindset of this group, which feels more like a cooperative than one led by soprano saxophonist extraordinaire Liebman. The descriptions given of the compositions, (four by Liebman, two arranged by him; one by keyboardist Bobby Avery, two by reedman/flutist Matt Vashlishan and two by bassist Tony Marino).
There is always a strong sense of construction and thought in the music, but this is an undertone to the complete freedom that is apparent within this structure. Individually, and as a group, these players are at the top of their game, creating the excitement that is always present in the best jazz when everyone is listening closely in the moment to what is happening, but taking chances with the assurance based on experience that the others will follow, support and take it from there.
When the group gets cooking it can get smoking hot, as, for example, in the center section of "The Puzzle." The temperature, but not the inner intensity, can also be brought down as in Liebman's "Vendetta," which was composed in response to a "vendetta-like" action against him by a person he admired. A similar, but not as anguished, mood can be heard in "Off Flow," an older Liebman composition inspired by the music of Hermeto Pascoal, and Vashlishan's "Sailing." Then again, "Good Bait" by Tadd Dameron and Count Basie swings like the dickens.
As with the previous album, which ended with the driving title tune, this one ends with the intense, and not a little terrifying "Dans De La Fleur (Dance of Fury)," composed by Olivier Messiaen and arranged by Liebman, clearly showing a deep understanding of how to mix structure and freedom.
So, strap yourself in and let The Puzzle take you for a ride.