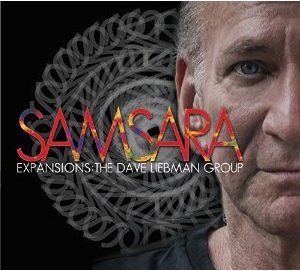 Samsara
Expansions: The Dave Liebman Group
Dave Liebman (soprano saxophone, wooden flute)
Bobby Avey (piano/keyboards)
Matt Vashlishan (alto sax, flute, clarinet)
Tony Marino (bass)
Alex Ritz (drums/frame drum)
Track Listing
1. Simply
2. Ugly Beauty
3. Endive
4. Liberian Hummingbird
5. Rhythm Thing
6. Searcher 2
7. Level One
8. Embers
9. Sivad
10. Child Refugee
11. Samsara
Review
ALL ABOUT JAZZ
By DAN BILAWSKY
Trying to keep up with all of saxophonist Dave Liebman's musical exploits? Good luck. A year doesn't seem to go by when Liebman doesn't release multiple recordings with different bands on different labels. Take 2014 for example: it's a year that has already seen his big band-based A Tribute To Wayne Shorter (Mama Records, 2014), an exploratory venture with The Saxophone Summit on Artistshare, and a co-headlined release dubbed The Miami Jazz Project (Zoho, 2014). And then there's Liebman's live efforts. He still travels the globe, bringing his music to the people and maintaining his "road warrior" status in the process. Liebman has more music in him than most, so he rarely goes too long without releasing something different. Perhaps he's even recorded and/or released something during the time it took to write this piece.  Liebman's latest venture, not surprisingly, focuses on the new. After two-plus decades with the Vic Juris-based version of The Dave Liebman Group, the saxophonist has found another band worthy of that designation. It's a quintet that's not tethered to any specific dynamic, containing musicians practiced in the art of collective improvisation and in-the-moment architectural design. That's not to say this is free jazz or music without borders. Structure is here, but so are harmonic wormholes, metric pitfalls, and canvases awaiting more musical paint. The music can be dastardly and devious ("Level One"), mystical ("Child Refugee"), mellow, or intense.  While Liebman is obviously the man behind the music here, working confidently with horn in hand, the shape of the music is molded not by his soprano saxophone and wooden flute, but by the piano and electric piano of Bobby Avey. He stands tall as a composer with the not-so-simple "Simply," sets the scene on "Embers," creates drama and tension on the winning "Level One," and paints with an extraordinary palette of colors elsewhere. The rest of the band—multi-reedist Matt Vashlishan, bassist Tony Marino, and drummer Alex Ritz—seems to be on the same page as Liebman and Avey. They know when to pull back and when to push the envelope. Together, these five men make music that can be alternately prickly or peaceful.  Hints of Ornette Coleman come to the surface in a few places, and direct references to Thelonious Monk (The "Evidence"-based "Endive") and Miles Davis ("Sivad") are here, but this is no look toward the past. Expansions exists in the present, pushing boundaries, toying with expectations, and letting the spirit of the moment determine its course.
MIDWEST RECORD
Chris Spector
EXPANSIONS (THE DAVE LIEBMAN GROUP)/Samsara:  Like a later day Miles, the older Liebman gets, the younger his band gets and it's hard to tell who's doing what to keep up with who.  Playing with heat, passion and fire but no bombast, these forward thinking jazzbos are sure to keep Leibman's NEA award shiny for many years to come.  Edgy in a Miles, pre-"Bitches Brew" kind of way, progressive jazz is here to stay again, some more.  Well done.
Samsara - New York City Jazz Record
ALL ABOUT JAZZ
by Bud Kopman
Dave Liebman is forever restless. An extremely emotional and expressive player, he has formed, after 20 years in a group featuring guitarist Vic Juris, the new group Expansions, purposefully bringing in and connecting with players of the younger generation. Adapting himself to their harmonic language and rhythmic patterns, he continues to expand and grow, resulting in the superb album Samsara.
The new group includes bassist Tony Marino, with whom he has a twenty year relationship, and three adept and original young players -keyboardist Bobby Avey, reed man Matt Vashlishan and drummer Alex Ritz. He knew Avey and Vashlishan from many interactions in his local area, and Ritz was recommended by other drummers with whom he had worked.
The group has obviously developed great rapport, because while Liebman always leans towards free improvising, the music is tight as a drum. Avey and Vashlishan push Liebman as much as he leads them, and Ritz reacts instantly to any and all twists and turns, while Marino always seems to know what to do, and when to do it.
Liebman is just as likely to play an achingly beautiful line as he is to shriek or erupt with a blizzard of notes. The free sections are bound by those with (a usually complex) groove, making the music quite accessible. Stylistically, the music lies between modern post-bop and the avant-garde, as high energy (though always under control) pieces alternate with melodic and/or tonal ones. Thus, Expansions' music is quite accessible by most everyone. Listeners experienced with the modern, more experimental side of jazz will feel quite at home and just might here echoes of the music of say, Greg Osby or Loren Stillman.
Avey and Vashlishan helped produce the record and did the editing and mixing. They are central to Samsara's sound; an Avery composition "Simply" opens the album and the title tune "Samsara" by Vashlishan, closes it. Every track, even such melodic ones as "Sivad" or "Searcher 2" is quite intense, producing a pacing that builds to the highly emotional "Child Refugee" and the smoking "Samsara." While Avey's keyboards provide the harmonic foundation and spice, Vashlishan is Liebman's partner and foil; they trade lines many times, as well as producing contrapuntal harmony.
Samsara is exciting music, and from the opening notes of "Simply" to the last notes of "Samsara," one cannot turn away. Simply fantastic.
JAZZIZ
By Mark Holston
SAMSARA unveils a new Liebman quintet. And, from top to bottom, its members — pianist Bobby Avey, bassist Tony Marino, drummer Alex Ritz and multi-woodwind artist Matt Vashlishan — quickly prove that they've embraced the leader's love of free, collective-style improvisation. Liebman limits himself to soprano sax and wood flute on this session, but the presence of Vashlishan playing alto sax, flute and clarinet dramatically expands the session's orchestral options. Sometimes the two blow harmonically dissonant unison lines; elsewhere their solos circle and snap at one another like birds of prey fighting to the death. Drummer Ritz and keyboardist Avey ensure that song forms don't fall into a conventional mode, poking and prodding to keep the takes loose, and sparking with surges of unanticipated energy. The inclusion of Thelonious Monk's "Ugly Beauty" is a special treat, presenting Liebman on soprano in a particularly serene and lyrical frame of mind.