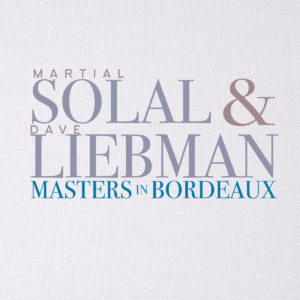 Masters in Bordeaux
Dave Liebman and Martial Solal
Dave Liebman - Saxophone
Martial Solal - Piano
http://sunnysidezone.com/album/masters-in-bordeaux
Track Listing
All The Things You Are  07:44
Night and Day  09:35
 Solar 08:21
What Is This Thing Called Love  07:01
On Green Dolphin Street  05:11
Lover Man  07:13
Liner Notes
The meeting of two musical giants is a pretty common thing these days. Far more uncommon is the first collaboration of two musicians from different generations and continents. That is precisely what is so unique and wonderful about the recent partnership of French piano legend Martial Solal and American saxophone giant Dave Liebman and their new recording, Masters In Bordeaux.
Born in Algiers and based in Paris since 1950, Solal is arguably the most important name in jazz from Europe. The 90-year-old pianist has been at the cutting edge of jazz music since the 1950s, as one of the first Europeans to master the bop language, scoring Jean-Luc Godard's Breathless, leading an extraordinary big band, and collaborating with important voices in the music from around the globe.
Twenty years Solal's junior, NEA Jazz Master Liebman has been a force in the spread of the music. His mastery of the saxophone and his musical eclecticism have made him a role model to many younger players. Liebman's extensive résumé covers sideman roles with many of the masters, including Elvin Jones and Miles Davis, as well as leading his own revolutionary ensembles.
Though a fan of Solal's work, Liebman had never met or played with him before 2016. It was the saxophonist's former student Jean-Charles Richard who was able to bring the two together. Being Solal's son-in-law, Richard was able to propose a meeting. Liebman provided some music of his longtime collaboration with the great pianist Richie Beirach. It wasn't long before Solal reached out in hopes of playing with Liebman.
Their first performances were at the Sunside Jazz Club in Paris. Liebman was struck by Solal's complete control and harmonic adventurousness. The two performed standards and a couple of originals in two successful evenings. The exhilaration of performing together, the challenge of their demanding musical knowledge, and their instant rapport made further meetings a priority.
The duo's next opportunity came when Jean-Jacques Quesada invited them to perform a concert at Château Guiraud in Sauternes, France as part of the Jazz and Wine Festival in Bordeaux.
The material was selected on the spot. The two decided to play standards that they knew well but that would prove to be intriguing because of the duo's flair for harmonic experimentation.
The program begins with a fascinatingly deconstructed version of Kern and Hammerstein's "All The Things You Are," the two musicians seemingly finishing each other's musical statements. Cole Porter's "Night and Day" is introduced by Solal's introspective plucking before Liebman's resonant tenor begins to sing alongside, both bringing real sparks with their playing. Spritely soprano introduces Miles Davis's "Solar" while Solal's piano plays brilliant and allusive lines setting off some amazing interplay.
Porter's "What Is This Thing Called Love" begins with a fantastic, pointillist tenor cadenza commences with an exhilarating duo passage, followed by a poignant Solal solo. The duo's take on Kaper and Washington's "On Green Dolphin Street" is measured yet still seeking. The Davis, Ramirez, and Sherman chestnut "Lover Man" concludes the set with perfectly weighted drama and intent.
In a true show of musical generosity and spirit, Martial Solal and Dave Liebman have begun a marvelous new partnership. Their new recording Masters In Bordeaux displays the duo's quickly developing empathy and brilliance in performance. 
Review
John Sharpe
NEW YORK CITY JAZZ RECORD
Standards provide the common ground for improvisers from diverse backgrounds who prefer to work with song forms. So no surprise that the intergenerational duo of reed player Dave Liebman and French pianist Martial Solal should gravitate towards a program of six such trusty warhorses at the Festival of Jazz and Wine in Bordeaux in 2016.
What may be more of a surprise is that it is the 90-year old Solal who pushes at the boundaries most. Freed from the constraints of a rhythm section he explores inviting side alleys while still keeping his eye on Main Street. Liebman typically stretches the melody while Solal feints and jabs, tinkering with the harmonies. In so doing they instill new life into tried and tested templates, becoming audibly more playful as the set progresses. By the teach they reach "What Is This Thing Called Love" they're flying. Liebman's pointillistic tenor soon goes from saccharine to acerbic with expressionisitic cries, as Solal's odd suspensions help stretch the parameters. But even when the listener may be puzzling over what's happening to the tune, it's clear that that the participants know exactly where they are and can reveal the familiar contours in an instant. They have similar fun on a flamboyant "On Green Dolphin Street" before they close Masters in Bordeaux bursting with vitality with the lower-key drama of "Lover Man".
J.D. Considine
DOWNBEAT MAGAZINE
No false advertising here. Martial Solal may not be as celebrated on this side of the Atlantic as he is in Europe, but there's no denying the 90-year-old French pianist's command of the instrument. Likewise, Dave Liebman has been a leading voice on soprano and tenor saxophone since the 70's. It doesn't take much to imagine that the two together would make duets of the first order.
And yet, Masters in Bordeaux (recorded live at the Jazz and Wine Festival) manages to exceed expectations. From the moment Liebman's soprano chirps the repeated, three-note intro from "All The Things You Are", it's clear that the two aren't interested in perfunctory readings of jazz standards. Liebman plays the riff, and Solal answers in fractured harmony, and they begin to improvise, extrapolating in this manner for 14 bars before finally stating the melody. Even then, it's hardly a standard reading, as Liebman and Solal play not only with tune's form and harmonic logic, but with the pacing and rhythmic structure of each other's playing.
Because their six-song set is made up entirely of jam session chestnuts like "Love Man" and "Night And Day", the focus is not on the tunes but on the inexhaustible depths of Solal and Liebman's inventiveness. Even when they occasionally turn to the obvious- for instance, Solal quoting "Hot House" during his solo on "What Is This Thing Called Love"- the context makes it seem like a surprise. Indeed, the only possible complaint a listener could have with Masters in Bordeaux would be that there wasn't a second set.
John Garratt
POPMATTERS
How many more covers of "Night and Day", "Lover Man", and "Solar" does the world really need? That was a question I asked myself before listening to Martial Solal and Dave Liebman's Masters in Bordeaux. After listening to it many times, my answer ranges from "More, please," to "Another certain couldn't hurt."
French pianist Martial Solal is the kind of musician that other piano legends turn to when they need a piano legend of their own to revere. American saxophonist Dave Liebman is the young pup of this duo at age 70. Masters in Bordeaux is a live album pulled from two different performances, though you would never have guessed just by listening alone. From song to song, phrase to phrase, the album has an easy flow. Solal's command of the piano and Liebman's effortless circular breathing will quickly persuade you to think "Sure, we could all use another rendition of 'Night and Day'."
To top it off, this is the first collaboration between these two giants. Hurrah for professional musicianship.
Dan McClenaghan
ALL ABOUT JAZZ
This should have happened a long time ago. Veteran jazz icons Martial Solal and Dave Liebman had never played together before the the Paris jazz club dates that served as a warm-up of sorts for this set, Masters In Bordeaux, recorded at the Jazz And Wine Festival in Bordeaux, France.
Paris-based pianist Solal, ninety years old now, began his career in the 1950s, in small groups, big bands, and as a crafter of soundtracks. His style is a freewheeling brew of form and freedom, often  stretching the familiar close to the borders of unfamiliarity, with a wit, grace and humor almost unmatched in jazz. Saxophonist Liebman, twenty years younger than his new partner here, nudged his foot into the doorway of a higher profile with Miles Davis, during one of the trumpeter's most avant and controversial periods, 'round about the time of the making of On The Corner (Columbia Records, 1972). Both artists can be called unconventional, both have had long and successful careers pushing their music to new places. And, judging from their recent output, the artists from different generations couldn't have more different musical personalities—Solal the crafty fox with a perpetual smile, laying down sunny sounds that contain surprising depths; Liebman bursting with intensity, gruff and robust.
This makes for a riveting contrast.
Liebman, better known perhaps for his soprano sax sound, alternates the straight horn here with his tenor sax. His soprano, on the "All The Things You Are," is sharp and searing, a bit rough around the edges; on tenor, on "What Is This Thing Called Love," he barks and blusters like a hungry Rottweiler. And Solal, as always, lays down a light-hearted, light-stepping backdrop as an accompanist, and sparkles the sounds out to the loveliest edge on his solos.
The set is all standards, but not a predictable note can be heard. These two masters are as spontaneous as can be, freewheeling and in the moment, the unique blending of the  genius of their disparate artistries on full display.
Dave Gelly
THE GUARDIAN
Playing standard tunes is one thing, free improvisation is another, and only fools or masters of the art even consider combining the two. Veteran French pianist Martial Solal and US saxophonist Dave Liebman are true masters. Take away the rigid structure of a song and there's nothing to keep it all together, except – to paraphrase Solal's note – ear, reflexes, technique and generosity of mind. Just following the twin trains of thought as they invent whole new patterns from fragments of Night and Day or On Green Dolphin Street is quite mesmerising. And there was no cheating. All six pieces were recorded live, in one go.
Dan Bilawsky
JAZZ TIMES
When it comes to improvisational savvy and interpretive insight, it doesn't get any better than these two. NEA Jazz Master Dave Liebman has decoded and developed numerous forms of language over the course of the past 50 years, exploring and expanding the boundaries of jazz while establishing himself as a guiding light in the music. French pianist Martial Solal, who recently entered the nonagenarian club, is one of the crown jewels of the European jazz world, serving as a direct link to everybody from Sidney Bechet to Paul Motian to Dave Douglas.
There's never been anything predictable about how these men operate in their individual pursuits, so it should come as no shock that their duo is full of surprises. All six of the tunes they perform here may be incredibly well worn, but Liebman and Solal reinvigorate each one. Their takes on classics are mildly transgressive yet highly accessible, playful and probing in nature but lyrical and tradition-minded at the core. It's hard to believe that any program including "Night and Day," "Solar" and "On Green Dolphin Street" could possibly be capable of providing a real taste of the unexpected, but this one beats the odds.
Solal's teetering foundations and Liebman's searching soprano set the scene for an "All the Things You Are" that's absolutely ripe and tasty, complete with impish play atop solid form outlining. "What Is This Thing Called Love" opens with a minute of Sonny Rollins-esque carnival-barker lines from Liebman before the real games begin. And "Lover Man" is set adrift, floating pleasurably on and off course. Liebman and Solal maintain dual musical citizenship with this one, existing as the ultimate insiders and outliers.