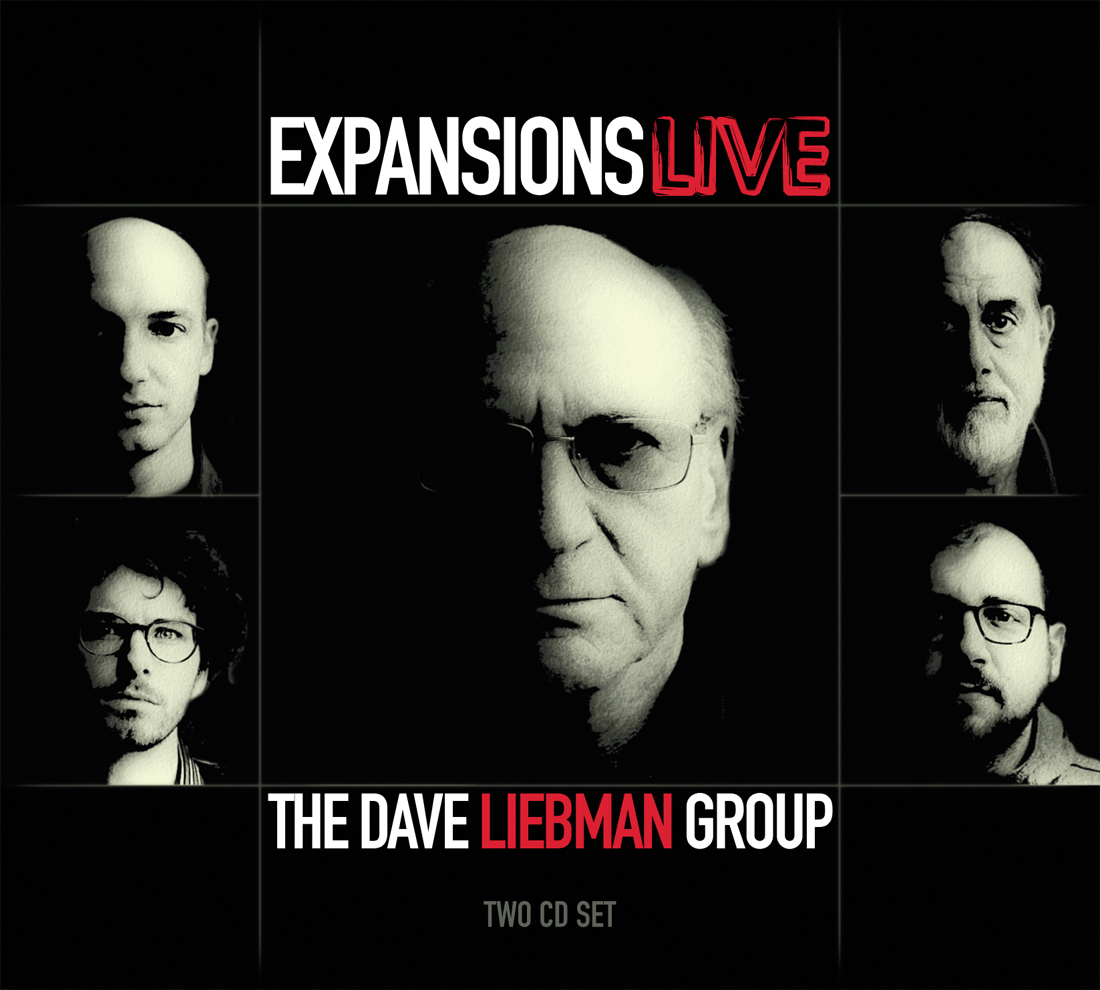 Expansions Live (Double CD)
Expansions: The Dave Liebman Group
Dave Liebman ­ soprano sax, C flute ­ (track 4 electric)
Matt Vashlishan ­ alto sax, clarinet, C flute, straw (track 2 acoustic;
track 2 electric)
Bobby Avey ­ piano, keyboard
Tony Marino-acoustic, electric bass
Alex Ritz ­ drums, frame drum (track 2 electric)
Track Listing
ACOUSTIC SONG LIST:
01 - Introduction of band members ­ 0:27
02 - JJ - 8:33 - D.Liebman
03 - Continues to Ignore - 8:33 - B.Avey
04 - All Blues - 11:29 - M.Davis
05 - Vendetta - 7:30 - D.Liebman
06 - Good Bait - 7:09 - T.Dameron/W.Basie
07 - Selim - 5:48 - H.Pascoal
08 - India - 12:55 - J.Coltrane
Total: 62:42
ELECTRIC:
01 - Surreality - 9:13 ­ D.Liebman
02 - The Moors - 10:55 ­ D.Liebman
03 - Footprints - 14:16 ­ W.Shorter
04 - Ugly Beauty - 8:56 - T.Monk
05 - Liberian Hummingbird - 4:54 - B.Avey
06 - Love Me Tender - 3:26 - G.Poulton
07 - Danse de la Fureur - 8:31 - O.Messiaen
Total: 60:27
Liner Notes
Jazz history is replete with live recordings and certainly for musicians it is the live gigs that teach and inspires us the most. Think of Miles at the Plugged Nickel or Coltrane at Birdland for example. Studio recording present a totally different atmosphere and aesthetic. Recording live with people in front of you (hopefully more than a few), a sound system to deal with, lights in your face with spontaneity as the goal, etc., etc., "things" happen that would be hard pressed to occur in a studio situation even playing the same music. Both scenarios are necessary for interested listeners and the artists towards measuring one's progress. But it is in live performance that you really can feel a band's particular kind of energy. In the case of 'Expansions' we have recorded some of these tunes on the two previous releases, "Samsara" and "The Puzzle" so a comparison of the live and studio versions might be of interest. Also note worthy is the electric and acoustic programs, quite different in scope and texture. As well on
this recording we pay attention to some classics from the jazz legacy, of course done our way. Enjoy!!
Special thanks to Marty Ashby (Manchester Craftsmen¹s Guild) and John Gilbreath (Earshot Jazz) for their cooperation towards releasing these tracks; to Neil Weiss for his continued support.
Review
ONE OF BEST RECORDS 2016-DOWNBEAT MAGAZINE:FOUR STARS
DOWNBEAT
by Bob Doershuk
The Dave Liebman Group's new live double album pushes some interesting buttons. The musicians excel both at extemporizing freely and playing within a song structure, flexible as the structure may be. In all settings, freedom is the grail, whether painting a broad conceptual vista or conjuring fine details in the moment.
There's also something nostalgic about "Expansions Live". Even the notion of dividing material in "acoustic" and "electric" discs nods toward the late '60's, when young jazz players gleefully outraged traditionalists by plugging in and cranking up.
The second disc features Liebman's electric music, though it is indeed electrifying, it ignores the high-voltage, rock-oriented work of Return to Forever, Mahavishnu Orchestra and Tony Williams' Lifetime. Instead, it goes back to the Miles Davis wellspring. Keyboardist Bobby Avey provides the dominant texture on these tracks. His ring-modulated Rhodes electric piano casts spells of mystery throughout the music, like drums in some shadowy distance.
Whereas the electric disc features soloists stirring through deep, tactile atmospherics, the acoustic album moves between unfettered atonal inventions. Liebman leads the way into an exploration based less on the notes than on the spirits they summon. It's an elusive approach, one that requires much from gifted players but rewards listeners even more.
NEW YORK CITY JAZZ RECORD
by Ken Dryden
Dave Liebman is one of the most fascinating musicians active today. Not only a prolific composer in a variety of styles, the saxophonist also leads a number of different bands around the world. Liebman's most compelling lineup is the quintet he bills as The Dave Liebman Group: Expansions, featuring two brilliant young virtuosos whom he mentored in the Poconos, pianist Bobby Avey and reed player Matt Vashlishan, along with veteran bassist Tony Marino and drummer Alex Ritz. Together they create magic, whether negotiating Liebman's challenging originals and arrangements or those by the gifted Avey. One can feel the energy on the bandstand right at the beginning of Disc 1 in Liebman's "JJ", with furious solos by Liebman (soprano saxophone) and Vashlishan fueled by the inspired rhythm section. Liebman's wild reworking of Miles Davis' "All Blues" is recognizable, though the much freer playing and rhythmic elasticity takes it far from the expected paths. The leader's brooding "Vendetta" showcases Avey at length and the haunting blend of Liebman's soprano with Vashlishan's flute. The playful romp through Tadd Dameron's "Good Bait" is far from its typically loping setting, spiced with a tasty dissonance in the solo sections, while John Coltrane's "India" is an intense, extended interpretation.
The Duluth, Georgia concert on Disc 2 has some interesting background. While the group was doing a soundcheck, Liebman liked the venue's acoustics and the work of the sound technician so much that he asked for a recording to be made. He also made this the first all-electric Expansions concert and the musicians responded with some of their best playing together. Liebman's "Surreality" has an eerie air, accented by off-center rhythms and growls of electric keyboard. The spacey arrangement of Wayne Shorter's "Footprints" is also taken into new territory and features Marino and Ritz in an intimate duet, with Avey joining them to take the piece further into the hinterlands. Avey's scoring of "Love Me Tender" is ominous with its captivating blend of soprano, flute and keyboard. To wrap the evening, Liebman's arrangement of Olivier Messiaen's "Dance De La Fureur" is avant jazz at its best, keeping listeners on the edge of their seats trying to anticipate each new twist. The confidence that Dave Liebman shows in the chemistry of his musicians is justified and each hearing reveals new facets of these musical gems.
ARTSFUSE
By Michael Ullman
Dave Liebman, whom many of us first heard in the early seventies with Elvin Jones's two tenor saxophone group and with Miles Davis, made his first recording in 1967 in Stockholm with a now obscure group of Swedes. His recording career re-booted in 1970, and in the next year he recorded (among other things) My Goal's Beyond with John McLaughlin and Genesis with Elvin Jones. Though he'd hate to hear it, with Jones and Miles he was a sort of Coltrane substitute, yet he had his own budding voice. And individual will. I remember hearing him around 1972 in Michigan with Miles Davis in a band that also featured tabla player Badal Roy. Miles took a long solo; Liebman stood beside him respectfully, listening intently. Then Miles stopped and waved Liebman on. Still listening intently, Liebman shook his head, no. He told the 'boss,' as he referred him to me later, that he'd prefer not to.
He's been less reticent, of course, in the over three hundred recordings he's made since, including an early series (also with Badal Roy) for ECM with his group Lookout Farm. To my ears he has also become more interesting and more accomplished with each new venture. Over the years his tone has mellowed, his repertoire grown in unpredictably intelligent ways. Through it all, he hasn't forgotten his roots: in 2009, he made two recordings re-making collaborations between Miles Davis and Gil Evans (Sketches of Spain and Miles Ahead, both on the Jazz Heads label).
On his new two CD set Expansions Live, Liebman has recorded a jazz version of the Elvis Presley hit, "Love Me Tender." Evidently Presley's syrupy crooning appealed to Liebman when he was a boy. On both discs, one made with acoustic instruments, the other (except for sax and drums) with electric, Liebman has selected challenging classics and radically reimagined them. He takes the opening solo on Miles Davis's "All Blues" at a rapid tempo. Almost immediately, pianist Bobby Avey enters, playing wildly energetic scale-like passages that self-consciously run counter to what Liebman is doing. From there, the melody enters and then disappears — starts and seems to stop — in what is virtually a free improvisation. At times, bassist Tony Marino or drummer Alex Ritz emerges from the mix without warning. Finally, when the listener least expects it, the piece really begins to swing. Equally appealing is a jaunty rendition of Tadd Dameron's bebop classic "Good Bait." Also on the acoustic disc, which features a second saxophonist (Matt Vashlishan), there's an eerie — at times downright impassive –rendition of the little-played Coltrane number "India," which Liebman claims to be an essay into world music. For those who love their jazz complex, the saxophonist supplies his own "Vendetta" and Hermeto Pascoal's "Selim."
(L-R: Bobby Avey, Tony Marino, Matt Vashlishan, Dave Liebman, Alex Ritz. Photo: Bob Wiedner
The electric disc has an intriguing rendition of Wayne Shorter's "Footprints," which Liebman calls "a great vehicle for whatever is happening in the band in the moment." The moments include a long, spacious solo by bassist Marino over the rattling tom-toms of Ritz. Perhaps the Shorter piece, as well as  Thelonious Monk's "Ugly Beauty," would be predictable offerings on a contemporary jazz recording. Not so "Love Me Tender," or the final work, Olivier Messiaen's "Danse de la Fureur." I listened to the original movement in Messiaen's "Quartet for the End of Time" and found, to my considerable astonishment, that the melody remains pretty well intact in this version. It is as if Messaien had Liebman's quirky, spacious, and intermittently intense playing in mind. The piece begins with a drum solo; there's also a solo on electronic instruments that sounds as if it was recorded underwater. Liebman's band, like its adventurous leader, is more than willing to take a deep dive.
JAZZ DA GAMA
by Raul Da Gama
There are only three most enduring groups in Jazz today in the mold of what was once referred to as 'The Classic Quartet' – meaning, I suppose an ensemble of substance. The Keith Jarrett Trio with Jack DeJohnette and Gary Peacock, the Wayne Shorter Group with Danilo Perez, John Patitucci, and Brian Blade and The Dave Liebman Group with Bobby Avey, Matt Vashlishan, Tony Mariano and Alex Ritz. It is hardly surprising that these groups should represent this great music with such noble authenticity; they are, after all, fronted by truly iconic musicians. Keith Jarrett, Wayne Shorter and Dave Liebman.
Dave Liebman is among a very select pantheon of saxophonists. Together with Wayne Shorter, Pharoah Sanders, Sonny Rollins and Archie Shepp. Liebman, like the four other saxophonists makes musical magic not so much because of unrivalled virtuosity, but because he is a very spiritual musician. The suggestion here is that he does not simply practice the art of music, but has forced his way into its secrets and that, together with his knowledge (of its history) has raised him to the Divine. It is true that Charlie Parker and John Coltrane showed the way in this regard, as did Miles Davis. However, none but these few saxophonists seem to have reached such a rarefied realm. Never is a note played unless Liebman risks his life for it. It is as if the very breath of God Himself was present in the tone, the colour and the texture of every note, and the very timbre of the saxophone itself. Hyperbole, you say? Well why not listen to Expansions Live?
To suggest that Dave Liebman was in top form is almost laughable. Indeed an old soul has been awakened and his spirit roams the dark recesses of the art like a musical apothecary in search of the perfect note. This Liebman does by sniffing at its fragrance and tasting its very flavours before mixing it into a magical potion that is served up in short stabbing phrases that punctuate long, breathtaking lines. His idiom is alive with childlike imagination, unfettered by the rational intellect, unconstrained by syllogism. Listen to 12m55s of John Coltrane's 'India' on Disc 1, or Bobby Avey's stunning arrangement of 'Love Me Tender' on Disc 2. These two songs alone are worth every hard-earned dollar that might be spent on this package, should one evaluate the spending money in that manner. But this music can never be a 'miscellaneous expense'.
The two disc set comprises of what has been termed an 'acoustic' and an 'electric' set (presumably). But it is all music really and of the most memorable kind. Disc one appears to be more high-spirited and charged, as it were by the kinetic energy that ignited the music of Bird. There is an extraordinary version of Tadd Dameron's 'Good Bait' – the very epitomé of ruggedly dramatic bebop music in all its glorious changing time signatures and rhythmic complexity. On the same disc, you'll find heart-stopping versions of Miles Davis' 'All Blues', Hermeto Pascoal's mind-bending 'Selim' and John Coltrane's majestic 'India'. Disc two is loaded with more intensely swirling currents. Dave Liebman's 'The Moors' is starkly beautiful and crepuscular. 'Footprints' from the Wayne Shorter songbook is more sinewy, paced like a jaguar moving with great stealth. And Olivier Messiaen's 'Danse De La Fureur' is signaled subtly at the beginning before liquid streams of quavers gather into a gentle cascade as the music progresses.
Looking back over 2016, one will be hard-pressed to find art that is so mesmeric, explosive, with rhythms bristling, dynamic contrasts more starkly illuminated and with a more dynamic thrust and propulsion. It's an exhilarating encore to Expansions from two years ago that looks well forward into the future of Jazz.
All About Jazz
by Budd Kopman
4.5 Stars
For those that know soprano saxophonist David Liebman's latest group Expansions from their first two studio albums,Samsara and The Puzzle, the double CD Expansions Live will be the lodestone for this quintet (Liebman, reedman Matt Vashlishan, keyboardist Bobby Avey, bassist Tony Marinoand drummer Alex Ritz).
Playing a few of the tunes from the earlier albums ("Continues To Ignore," "Vendetta," "Good Bait" and "Dans de la Fureur" from The Puzzle and "Ugly Beauty" and "Liberian Hummingbird" from Samsara) as well as new material (including old and new standards), the quintet tears through an acoustic set and an electric set, leaving nothing behind.
For those that do not know Liebman in general or this group specifically, Expansions Liveis a fine place to start. As Liebman explains in the notes, special things many times happen at a gig as opposed to the studio, and a recording of a live performance is the next best thing to being there. As was evident from the first notes of Samsara, the elder statesman Liebman had connected with three young, but extraordinary musicians (Marino has played with him for more than twenty years), who bring their own fresh aesthetics to the music, as well being ready, willing and able to imbibe the lessons of what Liebman teaches with every note he plays.
The acoustic set has been pieced together from two gigs about a week apart, and contains material composed by Liebman and Avey as well as Miles Davis' "All Blues," "Good Bait" by Tadd Dameron and Count Basie and a fantastic, thirteen-minute rendition of John Coltrane's "India."
Liebman has a sound (on whatever instrument) and a way of phrasing that makes him immediately recognizable, even on the electric set, (Avey moves to electric keyboard and Marino to electric bass) which has quite a different, much more atmospheric vibe (and sound, with a lot of echo/reverb added) than the acoustic set, which could be called "straight-ahead Liebman." Wayne Shorter's "Footprints" and Thelonious Monk's "Ugly Beauty" are marvelous and rival the other set's "India." "Love Me Tender" seems to come out of nowhere, and the harmonic treatment given this well- known tune is shockingly funny.
This is top notch jazz, played by old, and young masters -outstanding!
MIDWEST BOOK REVIEW
by James A. Cox
Expansions Live is a 2-CD set of a live performance of Dave Liebman's group Expansions, five musicians who tour and record together: Dave Liebman (soprano sax and flute), Matt Vashlishan (reeds), Bobby Avey (keys), Tony Marino (bass), and Alex Ritz (drums). One CD is devoted to acoustic songs, the other to electric songs; all are brimming with creativity, improvisation, and flourish. Expansions Live is highly recommended, especially for jazz connoisseurs, and public library collections. The tracks are "Introduction of band members", "JJ", "Continues to Ignore", "All Blues", "Vendetta", "Good Bait", "Selim", and "India" on the Acoustic disc, and "Surreality", "The Moors", "Footprints", "Ugly Beauty", "Liberian Hummingbird", "Love Me Tender", and "Danse de la Fureur" on the Electric disc.
CADENCE MAGAZINE
by Robert Rusch
EXPANSIONS LIVE [Whaling City Sound Records WCS 088] presents the DAVE LIEBMAN[ss/flt] group Expansions [Matt Vashlishan-as/clt/flt, Bobby Avey-keys, Tony Marino-b, Alex Ritz-dms]. This is a 2 CD set. CD #1 is acoustic [recorded 10/30/14 and 10/24/15] while CD #2 is electric [recorded 4/21/16]. The two varying treatments in one issue make it more encompassing for listeners who prefer some of Liebman's bags over others. After many recordings over the years, it is clear that this multi-talented musician is not firmly in any one camp when it comes to genre, treatments or even instrument selection.  The acoustic CD has some brilliant playing mixed in with average material, made to seem even more average when contrasted with the brilliance of some of the outings. The electric side will at times bring to mind Liebman's work with Miles Davis while at other stages it is moody ethereal designs or more straight electric jazz. The sets [123:09] are a mixture of originals and covers [All Blues, Good Bait, India, Footprints, Ugly Beauty, Love Me Tender, Danse De La Fureur]. Both sides offer music well worth indulging in with the exception of "Love Me Tender" which is short [3:26] and dreary. Nice digi-pack with insert that offers Liebman's liners and Aaron Winter's photos. Yes, yet another Liebman release but one offering a nice cross view of the man's talents, expansive indeed.
JAZZ WEEKLY
by George Harris
One of the last living pioneers of the post bop movement, Dave Liebman continues to deliver strong sounds and directions. This double cd set has his current band of Matt Vashlishan/as-cl-fl, Bobby Avey/p-key, Tony Marino/b and Alex Ritz/dr in settings divided into " Acoustic" and "Electric", which seems to be arbitrary as Avey's keyboards are noticed on the "acoustic" piece "Selim."
For the"acoustic" side, Liebman takes  you to Monument Valley with his C flute with an expansive and starry night of "Continues to Ignore" while the loose read of "All Blues" has alto sax and soprano sax weave in and out like a tapestry. The team shows some bop chops on the hip "Good Bait" and the tribute to his employer is rich on the spacey "Selim."
On the "electric" disc, Ritz is tensile and kinetic on "Surreality" while Marino's pizzicato musings team up with shadowy flute on the Middle Eastern "The Moors." The team goes dark on a take of Monk's "Ugly Beauty" and then glows with delight on the ringer of the evening, an impressionistic read of "Love Me Tender." This guy never runs out of ideas or inspirations. Are we appreciating his career enough?