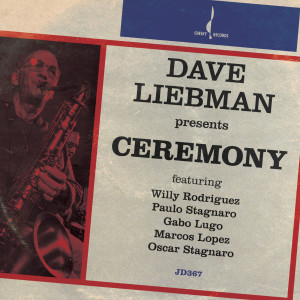 Ceremony
Dave Liebman with Willy Rodriguez, Paulo Stagnaro, Gabo Lugo, Marcos Lopez and Oscar Stagnaro
Percussion:
Willy Rodriguez
Paulo Stagnaro
Gabo Lugo
Marcos Lopez
Bass:
Oscar Stagnaro
Track Listing
1. The Drum Thing (2:53)

2. Tunji (8:27)
Composed by John Coltrane

3. Kulu Se Mama (Juno Se Mama) (7:41)

4. Ceremony: Morning (5:08)
5. Ceremony: Afternoon (7:10)
6. Ceremony: Evening (6:57)
7. Tardes de Lindoia (4:04)

6. Danza del Pajaro (5:29)
Liner Notes
From Lieb:
As a suggestion from my wife, Caris, and through meeting and playing with drummer Willy Rodriquez, I have come into contact with some of the younger generation of Latin American musicians. Just like what is happening in jazz, there is a wealth of incredible talent coming from Cuba, Puerto Rico, the Dominican Republic, Columbia, etc. playing much more sophisticated music than what my generation considered "Latin" music years ago. When I think of playing opposite Latin bands in the 50s and 60s in the Catskill Mountain hotels ("Borscht Belt"- New York State), for the most part the music was for dancing….rhumba, bolero, cha-cha, merengue, mambo, etc. This body of music, though still important for dancing has evolved tremendously. One record that was influential for me years ago was Mongo Santamaria's Yambu featuring voices and drums….a sound I always wanted to capture on a record.
I thank all the guys for giving me their time and expertise organizing the rhythms, and of course Chesky Records for their full support of the project. The actual recording scenario that Chesky uses (one microphone, no mixing in a church setting) demands a lot of musicianship, balancing dynamics and sound. Oscar, Willy, Gabo, Paulo and Marcos were complete professionals in this unique recording situation.
Besides the Coltrane, "Danza" and "Tardes" cuts, the three "Ceremony" pieces center around one basic melody adjusted for each of the chosen modes, freely interpreted over odd meter bass and drum lines. Forty years ago I recorded Drum Ode (ECM Records) celebrating drums and drummers. Ceremony follows decades later and now as then, the music stands as a testament to my admiration and love for drummers, worldwide.
Ceremony is dedicated to Diablito (Grey Bear) who taught me a lot about this music and beyond.
Also appreciation for Allan Tucker who put the connections together between myself, Nicholas Prout and Chesky Records.
From Bobby Sanabria:
The National Endowment of the Arts' Jazz Master, Dave Liebman, is a S.O.B... a mighty Son of Brooklyn - the borough of New York that, along with the Bronx, represents the soul of the city. He was born on September 4, 1946 during a period of change in jazz, one that has yet to be properly documented by even its most noted musicians, writers, filmmakers, and serious academics. It was a time when Afro-Cuban based dance music and its driving polyrhythm's were taking the City, and eventually the country, by storm. At its epicenter was the Machito Afro-Cubans, a big band led by the amazing multi-instrumentalist (clarinet, alto sax, lead trumpet) Mario Bauzá and his brother-in-law Frank Grillo (Machito). Thus Afro-Cuban jazz, the first form of Latin jazz, was born and Afro-Cuban percussion would become part of mainstream jazz in America.
The liturgical music of the Bantú Congolese and Yoruba people in West and Central Africa eventually evolved into the rhythmic foundation of the mambo, cha-cha-cha, and rumba. It was this music that drove dancers to ecstasy in the great ballrooms and mountain resorts of New York's Borscht Belt where Dave performed as a teenager. With this new work, Dave has added to that history and joined the continuum of Jewish musicians that have contributed to New York City's rich Afro-Latin music culture.
Dave's beautiful flute, tenor, and soprano sax lines soar over the rhythms played by young virtuosic percussionists throughout this beautifully haunting CD. They provide a cultural context evoking the spirit of John Coltrane, particularly in the two opening pieces which were penned by Trane and arranged by Dave…"The Drum Thing" (originally on the album Crescent, 1964) and "Tunji" (from the album Coltrane, 1962), dedicated to famed African percussionist Olatunji. These pieces are followed by "Kule Sé Mama" composed by Juno Lewis (from the Coltrane album of the same title, 1965). The Liebman original three-movement suite and title piece of this CD, "Ceremony" (Morning, Afternoon, Evening) opens with the hypnotic, lumbering cadence of a Peruvian cajón (a wooden box played like a drum) in tandem with Oscar Stagnaro's rock solid bass, providing a framework for the clarion call of Dave on soprano sax announcing the morning dawn. With references to Middle Eastern, Hebraic, and North African music, at this slow tempo Liebman demonstrates why he is one of the great masters of his instrument.
"Afternoon" begins with an ad libitum conga solo that gradually builds in intensity. Transitioning into a slightly faster rhythm, the conga provides a timeline based on Afro-Puerto Rican bomba xicá and Afro-Cuban danzón, but with a quirky, subtly odd meter twist. The conversational interplay between drum set and Dave builds to a point that is reminiscent of the classic dialogues amid Elvin Jones and Coltrane. The final movement, "Evening," is the intense, faster in tempo closing. It opens with a timbales solo featuring some beautifully coordinated independence - in this case clave (the five attack rhythmic mantra of Afro-Cuban music) being maintained on a wood block in one hand while the other hand solos against it. It's a subtle ode to the legendary Cuban drummer and percussionist, José Luis Quintana (Changuito), who was revolutionary in the development of this technique. After a short pause and stop time break (cierre), the other percussionists' sound morphs into an all out fusion of elements from the rumba, yesá, and timba styles, but with another odd meter twist that would make Don Ellis proud.
'Tardes' is the plural of the Catalan word 'tarda' which means 'afternoon', as in the Spanish phrase "buenas tardes" (good afternoon). It is also the name of a beautiful river in central France. Dave's romanticism, lyricism, and neshome (the Yiddish word for soul), are all present in this original track that he interprets on tenor. The CD closes as it began, with Dave on flute playing a percussive workout entitled "Danza." Although a musical form of the same name exists in Puerto Rico, here the title refers to its literal meaning in Spanish, "dance." There are some great exchanges here between the percussionists and Liebman in a hybrid rhythmic format that has slight elements of the conga de comparsa (carnival rhythm of Cuba) and Brazilian samba. The final sounds that close the CD are that of the humble maracas – the instrument that the Spanish conquistadores first heard played by the indigenous peoples of the Caribbean.
Toward the end of his life, John Coltrane began experimenting with multiple drum set players and percussionists. I can't help but think that this recording represents the direction that Coltrane eventually would have explored had he lived long enough. The Abakua, a secret fraternal order in Cuba based on the ancient leopard societies of the Calabar region of southern Nigeria have an old saying, "Abasi ecue maya beki" which translates to "through the drum God speaks." Listen to him speak through the drums and Dave on this recording.
Review
ALL ABOUT JAZZ
By James Nadal
The most distinguished characteristic of Afro-Caribbean music—as well as its greatest contribution to the jazz idiom—has been the drums. If we take this one step further, the Afro-Cuban tradition of drumming has had the highest degree of influence, and has been readily identifiable, since the Latin dance crazes of the mid twentieth century brought these diverse and intricate rhythms to widespread attention. Noted jazz saxophone master and scholar Dave Liebman, has been tuned into the complexity of these drums throughout his career, and delved deep into its ritualistic connotations in Ceremony.
The record commences with a pair of Liebman rearranged John Coltrane songs. A haunting flute opens "The Drum Thing," introducing the batá drums, which have their origins in revered Yoruba liturgy. Liebman turns to the tenor sax in "Tunji," an ode to African drummer Olatunji, and he switches to his mainstay, the soprano, on "Kulu Sé Mama." Though not penned by Coltrane, this was the title of a significant album of his. The ensemble developed on this record revolves around the percussion, with the bass of Oscar Stagnaro being the guiding coherence which Liebman follows and plays off of.
By the time the record evolves into the "Ceremony" trilogy, Liebman has transformed into a shaman. No longer an instrumental soloist, but an integral part of the call and response mode which has been carefully created by the pulsing drums and hypnotic bass. "Ceremony: Morning," finds him weaving his soprano, conjuring images of snake charmers and desert caravans, as the sun rises in the east. On "Ceremony: Afternoon," the pace is enhanced by the congas laying down a hybrid of a Puerto Rican bomba, and Cuban danzón, as the performers gather in preparation for the festivities. When "Ceremony: Evening," comes around, the clave and timbales set the attitude and syncopation for the hand drum rhythms to soar. The pace quickens, the soprano sax invokes the babalao—the high priest of Santería—chanting praises to the Orishas(dieties), all the while the dance continues long into the night.
"Tardes de Lindóia," brings Liebman back on tenor, to showcase his formidable tone and total domination of a ballad. He switches back to a wooden flute on the concluding "Danza del Pájaro," reminiscent of the charanga flutists who accompanied the classic Cuban comparsas during carnivals.
Ceremony is a most interesting recording as it is a dramatic departure from what is associated with jazz and its more sophisticated instrumentation. But it is ingenious in that Liebman went all the way back to primordial sounds and rhythms to display where it all began. He portrays a profound knowledge that African derived drumming was utilized in sacred rites long before they were transformed into the secular beats of popular music. As with all great jazz artists, it is what he does not play that makes for captivating listening. He let the drums take possession of time and space, went with the flow, and offered an imaginative excursion into the exotic.
Jazziz
Mark Holston

Saxophonist, flutist and composer Dave Liebman is one of the most prolific leaders in jazz, having released four new projects in the past year alone. There's more to the story, however, than a hyperactive artist cranking out pro-forma albums. For Liebman, each release affords an opportunity to explore a different stylistic direction and an opportunity to test his creative instincts with a new set of cohorts. On Ceremony, Liebman performs with a quartet of Latin percussionists and bassist Oscar Stagnaro. The album's eight tracks emphasize the folkloric side of Afro-Cuban and Afro-Rican rhythms that have provided the foundation of Latin jazz since it emerged during the late 1940s. Although the percussive element is dense and sprinkled with drummer Willie Rodriguez's cymbal accents, there is a spare, hypnotic quality to many of the works. Stagnaro's bass tumbaos counterbalance Liebman's excursions quite effectively.
The first two tracks are the session's heart and soul. Each pays homage to John Coltrane, one of Liebman's major influences, and a pioneer in adapting Latin rhythms to avant-garde settings. Opening the set is 'Trane's "The Drum Thing." Elemental, wistful strains from the leader's wood flute establish a meditative mood before a processional cadence on percussion takes over. On "Tunji," another Coltrane piece, Liebman's tenor saxophone soars expressively over a bed of more elaborate rhythmic pulses. A tune recorded by Coltrane in 1965, "Kulu Sé Mama (Juno Sé Mama)," follows. Here, the percussion is less inhibited, matching the assertive tone of Liebman's soprano. Buried in the long-form arrangement is a brief quote from Mongo Santamaria's "Afro Blue." The Chesky label's touted engineering techniques make Ceremony even more memorable, casting listeners amid the swirling rhythms and Liebman's hypnotic blowing.

Latin Jazz Net
By Raul De Gama

***** ALBUM OF THE WEEK
In 1987 Dave Liebman joined saxophonist Wayne Shorter, bassist Eddie Gómez, drummer Jack DeJohnette and pianist Richie Beirach in recording Live Under The Sky: Tribute to John Coltrane in Tokyo. The intensity of that performance and the subsequent interview with Mr. Liebman showed the musicians' unconditional love for the legendary master musician, John Coltrane. Then, it was eminently clear that few tributes to Mr. Coltrane would equal that one for the depth of its homage and its spirituality as well. And while that may be true, the passage of time has intensified musicians' feeling of loss that also left the world of jazz without its moral compass; its spiritual leader who showed a generation of musicians the way forward. It was left to musicians such as Albert Ayler and Pharoah Sanders, and now Wayne Shorter as well, to point musicians in the direction of the soul of the music and to revive the spiritualism of Mr. Coltrane's message. But it also pays to remember the work of the ineffable Dave Liebman in keeping music spiritually centred. Should that have ever been forgotten, here is a timely reminder, which also comes as a tribute to Mr. Coltrane: This is the magnificently produced and recorded Ceremony. Although Mr. Coltrane seemed to be moving "eastwards" and seemed more likely to meld his Afri-centred music with that of India, there is a suggestion—especially with this recording—that at some time in his late-period, Mr. Coltrane was also discovering Afro-Caribbean music. His use of conga and batá drummers surely seemed to be pointing in that direction. But why talk only of John Coltrane? Ceremony is primarily Mr. Liebman's expression; his direction to take. And even if it lasts for one record, it will have left a lasting impression on his music because of the depth to which Mr. Liebman has reached here.
There is a remarkable aspect to Ceremony. It is filled with nothing but the melodic presence of Dave Liebman's saxophones and flute and the force and power of Afro-Caribbean drumming combined with the tumbao of the bass. It is this very intense and concentrated rhythm that throws Mr. Liebman's mystical melodies into the spotlight. And it is the stark timbres of Mr. Liebman's magnificent playing that set the tone for the whole album. His undulating volume and unevenly stressed notes make for dramatic shifts not only in volume, but also in tone that herald the implicit pleading in songs such as "Tardes de Lindóia." These magical moments continue to inform the soaring flute of both "The Drum Thing" and "Danza del Pájaro." It is the mythic connection between the songs that seems to suggest another possible root that Mr. Coltrane might have developed had he lived to fully explore various musical idioms and metaphors. But these charts are not simply suggestions of John Coltrane's possible directions. In actual fact they are Dave Liebman's monumental meditations. The spirited releases of energy in "The Drum Thing," "Tunji" and "Kulu Sé Mama (Juno Sé Mama)" from Dave Liebman indicates that Mr. Liebman too is Afri-centred in his musical approach. It also suggests that this saxophonist pays more than a fleeting homage to this music; the music of African-American poets of the brass and woodwinds, reeds and strings, piano, bass and drums. And then there is Mr. Liebman's suite, Ceremony. The nobility of the composition is driven by its heraldic nature. It is celebratory and, oddly enough it also seems to coincide with the spiritualism of Afri-Centric shamanism as well as Christian prayer. Most of all (and this might or might not have been Mr. Liebman's intention) the music stretches inter-continentally in the direction of Asia in general and India in particular, with that country's mystical celebration of "Satchitananda"(Sanskrit)—that which is "being, consciousness, bliss"—attained by intense meditation. Remarkably Mr. Liebman's musicianship speaks this musical language as well. And it is this that brings him incredibly close to John Coltrane, musically as well as spiritually.
Dave Liebman's feel for imagery and poetry is vast and seemingly limitless. His handling of this through his instruments of choice gives him tremendous possibility as he searches the darkness for that "Satchitananda" something that he is likely to find sooner rather than later. This requires method and discipline—something Mr. Liebman has an unlimited store of. His music will become more energised then as his spirit roams the aether of the fourth dimension; the ethereal realm of music that has proved elusive to most musicians but will never be inaccessible to Dave Liebman, a musician who plumbs the depths of the soul, going Challenger-deep to find nirvana of his music or the Afro-Caribbean bliss that is already suggested by the mighty music of this recording. Ceremony is Dave Liebman's parallel to Carlos Castañeda's "Ways of Seeing" without the necessary use of peyote for Mr. Liebman's drug is music; something no one will have enough of after listening to the music of this recording.