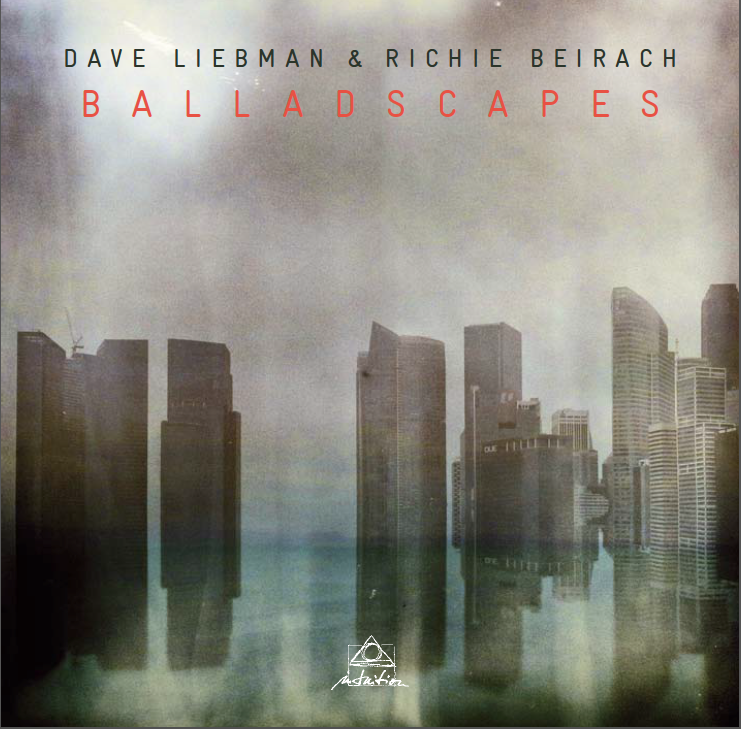 Balladscapes
Dave Liebman and Richie Beirach
Dave Liebman and Richie Beirach
http://www.amazon.co.uk/Balladscapes-Dave-Liebman-Richie-Beirach/dp/B01BPSA9Y2
Track Listing
Siciliana (J.S. Bach)
For All We Know (Fred Coots)
This Is New (Kurt Weill)
Quest (D. Liebman, R. Beirach)
Master of the Obvious (D. Liebman)
Zingaro (Antonio Carlos Jobim)
Sweet Pea (Wayne Shorter)
Kurtland (D. Liebman, R. Beirach)
Moonlight in Vermont (Karl Suessdorf)
Lazy Afternoon (Jerome Moross)
Welcome/Expression (John Coltrane)
DL (R. Beirach)
Day Dream (Billy Strayhorn, Duke Ellington)
Review
JAZZSTATION
by Arnalda DeSouteiro
Balladscapes voted in Best of 2016 List: Top Instrumental CD (#2), Pianist (Richie Beirach, #1), Soprano Saxophonist (#1) , Tenor Saxophone (#3), Engineer (Florian Van Volxem #2), and Artwork (Knut Schötteldreier, #2)
CLASSICALITE
By Mike Greenblatt
Just like sibling harmonies, the magic created by the tandem of Dave Liebman, 69, (soprano and tenor sax plus flute) and Richie Beirach, 68, (piano) has been nurtured, in this case, for almost half a century. They need no rhythm section. Their chemistry, their interplay, their almost preternatural ability to anticipate one another and expound upon each other's ideas are second nature to them now...like breathing out and breathing in. Balladscapes (Intuition Records, Germany) is so pure and free that it has, forevermore, cemented these two in time.
These guys are no small potatoes. After meeting at Queens College, and jamming on mostly Coltrane material in Liebman's loft on 19th Street in New York City or Beirach's small apartment downtown on Spring Street, often with bassist Frank Tusa, they finally recorded Liebman's 1973 landmark First Visit debut with Jack DeJohnette and Dave Holland. Liebman was in the bands first of Elvin Jones and then of Miles Davis. Beirach was in the band of Stan Getz.
Balladscapes is a first for them both. Sure there's Coltrane ("Welcome/Expression") but there's also Bach ("Siciliana"), Kurt Weill ("This Is New"), Antonio Carlos Jobim ("Zingaro"), Wayne Shorter ("Sweet Pea") and some Ellingtonia ("Day Dream") amidst its originals, 13 in all.
The tracks melt into each other in a cloudy day of mesmerizing anticipation. Karl Suessdorf's "Moonlight In Vermont" segueing into Jerome Moross' "Lazy Afternoon" is a perfect example. It's a CD for late-night cogitation, the kind of music that will give birth to one's own ideas as almost a soundtrack. It's actually eerie in spots and elsewhere energetic (and don't think for one minute you cannot derive energy within these Balladscapes). They're free, they take flight with each other's permission and oftentimes it is what's being played underneath the solos that grants this project those totally overused words of "genius" and "brilliant."
JAZZ STATION
By Arnaldo DeSouteiro
Five Stars - Instrumental CD of the Month
Although I was a big fan of Dave Liebman's artistry since I heard him with Miles Davis in my native Rio, the first time I became aware of his partnership with Richie Beirach was exactly 40 years ago, when their "Forgotten Fantasies" duo album for John Snyder's Horizon label was, for some miracle, released in Brazil in 1976. I remember listening to that vinyl over and over again, deeply impressed by their deep interplay on such complex tunes like the 13-minute long "Obsidian Mirrors," my personal favourite track.
Since then, I kept both Liebman and Beirach under my radar not only when they performed together -- like on those memorable albums by their Quest group and on that fantastic "Tribute To John Coltrane - Live Under The Sky" CD/LaserDisc (filmed in Japan with a quintet completed by Wayne Shorter, Eddie Gomez and Jack DeJohnette) that later was reissued on DVD -- as well through the listening of their individual projects. I even had the privilege to attend some clinics and masterclasses conducted by Liebman at IAJE conventions when we were both members of the now-defunct International Association of Jazz Educators.
Both Liebman and Beirach also were often included among the "top artists of the year" in the annual Jazz Station Awards, initially presented in my weekly column in the Tribuna da Imprensa newspaper, and later also on the cyberspace through this website.
In 2015, for example, Liebman was elected #1 soprano sax player in the 37th Annual Jazz Station Awards, for his "The Puzzle" album (Whaling City), while Beirach appeared among the top piano players thanks to his "Varuna" CD with Laurie Antonioli (Origin), also voted among the best albums of the year.
Now I'm mesmerized by their new outstanding duo project, "Balladscapes," produced by Kurt Renker, recorded in April 2015 and released in April 2016 by the Intuition label. Like on my desert island disc "Forgotten Fantasies," Liebman plays flute, soprano and tenor sax, with Beirach focused on the acoustic piano. No acrobatics, just the essence of expressiveness.
The program includes four astounding originals, some standards ("For All We Know", "Moonlight In Vermont," the enchanting "Lazy Afternoon") and jazz classics -- from Billy Strayhorn/Duke Elington's "Day Dream" to John Coltrane's "Welcome/Expression", from Wayne Shorter's "Sweet Pea" originally recorded by Miles Davis to bossa nova master Antonio Carlos Jobim's "Zingaro" made famous by João Gilberto --, and even a J.S. Bach piece ("Siciliano," from Sonata No. 2 in E-flat major for flute and harpsichord.) It's haunting music of the highest caliber. But it's also sublime poetry of the highest sensitivity.
MIDWEST RECORD
By Chris Spector
The two jazzbo pals, friends since their teens and vets of Liebman's debut set with the help of Jack deJohnette and Dave Holland, they pair it down to the duo essence of sax and piano and show just how strong and flawless the power of two can be. Liebman, who's been doing a series of late career killer dates, each showing a different side of his vibe, seems to be channeling his inner, non-Brazil, non new age Paul Winter here adding yet another color to his palette since the final sound is unmistakably Lieb. While these two probably only slow down long enough to make sure their Medicare part B is paid and current, not only is there no dust on them but their finger joints sound more spry than mine. Real, pure playing by a pair of cats that have survived all the changes and are here to tell the story to anyone hip enough to know to dig it. Killer stuff throughout.