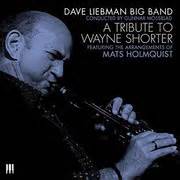 A Tribute To Wayne Shorter
Dave Liebman Big Band
Personnel: Dave Liebman: leader, soprano sax, wooden flute soloist; Mats Holmquist: arranger; Gunnar Mossblad: music director, alto, soprano sax, flute; Bob Millikan: trumpet, flugelhorn; Brian Pareschi: trumpet, flugelhorn; Dave Ballou: trumpet, flugelhorn; Danny Cahn: trumpet, flugelhorn; Patrick Dorian: trumpet, flugelhorn; Tom Christensen: alto sax, flute; Dave Riekenberg: tenor sax, flute, clarinet; Tim Ries: tenor sax, clarinet; Chris Karlic: baritone sax, clarinet; Tim Sessions: trombone; Scott Reeves: trombone, alto flugelhorn; Jason Jackson: trombone; Jeff Nelson: bass trombone; Jim Ridl: piano; Vic Juris: guitar; Tony Marino: bass; Marko Marcinko: drums.
Track Listing
1. Infant Eyes
2. Speak No Evil
3. Yes or No
4. Nefertiti
5. El Gaucho
6. Iris
7. Black Nile
Review
JAZZ TIMES
By Britt Robson
The reputation of composer Wayne Shorter is a growth stock likely to continue to soar for decades on end. But unlike Duke Ellington or even Charles Mingus, Shorter has written relatively little for large ensembles. Still, his supple melodies, harmonic sophistication and knack for evocative themes and titles make his work beguiling to big-band arrangers.
For this Shorter tribute, Mats Holmquist, arranger for the 19-piece Dave Liebman Big Band, tumbles into seven small-ensemble compositions the maestro wrote during the mid-1960s. The set opens with a pair of remarkably different tunes from Speak No Evil, originally recorded in 1964.  For the impeccably titled ballad "Infant Eyes," Holmquist poaches the horns in a pastel swirl of wonder and innocence, a rich and poignant treatment. That's followed by the sidewalk strut of the title track to Speak No Evil, with its seductive, easy-rolling melody that the band understandably returns to a trifle too often.
Another ballad rendition you'll linger for and replay is "Nefertiti." Here the brass sections are tracked and mixed a whisker askew to create a slight, ethereal echo that captures the unsettling, almost freebopish feel of the original.  It's not until the final track, "Black Nile," from 1964's Night Dreamer, that the group cuts loose with the rousing surges, counterpoints and fanfares that are big-band staples. Holmquist has done an  admirable job.
But they don't call this the Dave Liebman Big Band for nothing. Liebman takes the majority of the band's solos wielding the soprano saxophone—hardly the most potent or cooperative instrument while fronting such a large aggregation.  But Lieb pulls it off.  He holds true to the sophisticated bop spirit of the tunes, resisting both the clarinet-style toodling from the swing era and Shorter's more gnomic approach to the soprano.  Except for the interplay between trombonist Tim Sessions and guitarist Vic Juris on "Yes or No," and a gorgeous alto flugelhorn solo by Scott Reeves on "Iris," Liebman owns all the memorable improvisations. They provide crucial ballast to Holmquist's arrangements—and help reaffirm Shorter's genius.
--
NYC Jazz Record
By George Kanzler
The stunning A Tribute to Wayne Shorter is the
latest project from saxophonist Dave Liebman's big
band, directed by alto saxophonist Gunnar Mossblad.
The music is a collaboration between Liebman and
arranger Mats Holmquist, with whose Big Bad Band
the saxophonist first performed it in Sweden in 2012.
All seven compositions first appeared on Shorter or
Miles Davis Quintet albums from 1964-67. Holmquist
notes his charts used "my own interpretation of
minimalist techniques"; that approach, favoring
repetitive fragments and gradually shifting, detail
accruing progression, perfectly complements Shorter's
mid '60s reliance on short melodic kernels repeated
over morphing harmonies. He also employs a ravishing
palette of orchestral colors, varying repeated phrases
like Impressionist paintings of the same landscapes in
different lights and seasons. It's an expansive approach,
which, along with Liebman's soprano and other solos
from the band, creates new aural vistas into familiar
tunes like "Infant Eyes" and, especially, "Nefertiti".
You may have thought you knew these seven Shorter
tunes — this album will make you think again.
--
ALL ABOUT JAZZ
By Jack Bowers
In a career spanning almost half a century, soprano saxophonist Dave Liebman has appeared on more than five hundred recordings including seventy as leader of various groups. His latest, A Tribute to Wayne Shorter by the Dave Liebman Big Band, may well be the best one yet. Why? Because every single component, from choice of material to arrangements, performance to production, is no less than superlative. In other words, there is simply nothing on this brilliantly conceived and splendidly consummated album that warrants censure of any kind.
In saluting one of the twentieth century's most resourceful and respected jazz musicians, Liebman has chosen (wisely) to focus exclusively on Shorter's more temperate and melodic treasure trove from the mid-1960s, a time during which he wrote such classic themes as "Infant Eyes," "Nefertiti," "Black Nile" and others. A second decision, perhaps even wiser than the first, was to assign arranging duties to Mats Holmquist, a Swedish master who leads his own ensemble and has literally written the book (well, a book) on big-band arranging, "Great Band ABZ." Holmquist's charts are, in a word, sublime, renovating Shorter's compositions, originally designed for quartets or quintets, to make them seem as though they'd been written explicitly for full-size bands.
A third decision, to open the album with a ballad ("Infant Eyes"), could have been less rewarding save for the excellence of the band, Holmquist's wonderful arrangement, and bewitching solos by Liebman and pianist Jim Ridl. Liebman solos on every track, and the thought that arises after listening is "why isn't this guy winning polls?" That's no spur-of-the-moment impression; on soprano sax, Liebman is as sharp and perceptive as anyone you'd care to name. Pay heed, for example, to his dazzling sorties on the fast-paced "Black Nile" and "Yes or No." Improvisation doesn't get much better than that. Speaking of which, there are splendid solos along the way by guitarist Vic Juris ("Speak No Evil"), trombonist Tim Sessions and drummer Marko Marcinko ("Yes or No"), trombonist Jason Jackson ("Nefertiti"), alto / music director Gunnar Mossblad ("El Gaucho"), flugel Scott Reeves and bassist Tony Marino ("Iris") and tenor Dave Riekenberg ("Black Nile").
In his liner notes, Liebman affirms "what a pleasure [it is] to play this timeless music with my big band." The pleasure is ours, Dave. Five stars for Dave Liebman, the band, Mats Holmquist and especially Wayne Shorter whose singular talents made this superlative recording possible.
--
The finest tribute to Wayne Shorter on the market today!
Brent Black / www.criticaljazz.com
One would be hard pressed to think of a finer saxophonist than NEA Jazz Master Dave Liebman to take on the catalog of the legendary Wayne Shorter. Toss in a large ensemble with Big Apple flair and spot on arrangements and the result is a recording that moves from ordinary to extraordinary. The arrangements of Matt Holmquist take some of the more predictable gems of the Shorter legacy and reinvents the sound to a new creative dynamic fitting both the talents of Liebman and Shorter. Big bands are all the rage again, this is not your father's big band!
Again, some artists you never "review" in the traditional sense. You inform and enlighten as best you can while the artist more than covers their own critical analysis with a history that is to be celebrated. Traditional big band? No...An organic large ensemble that works a harmonic exploratory on such tunes as "Infant Eyes" along with "Speak No Evil" and "Black Nile" - Yes! Dynamics, meter and a performance level that elevates big band to the next level puts the Dave Liebman big band into some very special company with other ensembles such as McCoy Tyner.
A first rate performance across the board. Very little to be said that most Liebman fans have not already figured out. Criticism? Too short!