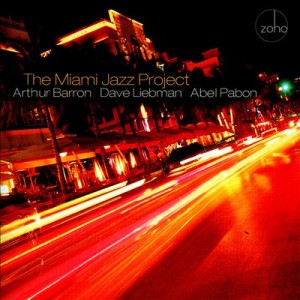 The Miami Jazz Project
Arthur Barron, Dave Liebman, Abel Pabon
Arthur Barron, Dave Liebman, Abel Pabon
Track Listing
1. Dahomey Dance
2. Lordy Lourdes
3. Jinnistan
4. Winter Day
5. Mr. Q
6. Blessings Eternal (Intro)
7. Slow Dance On the Killing Ground
8. Scheer Joy
9. Missing Person
10. Tu Amor Neri
Review
ALL ABOUT JAZZ
By Vic Schermer
Always on the lookout for outstanding players to join him, NEA Jazz Master saxophonist, flautist, and composer David Liebman finds in the The Miami Jazz Project a simpatico group of musicians to echo and recapitulate his interest in the post- Coltrane concatenation of fusion and world music where his career first took off in the 1970s. Liebman is the obvious inspiration for this album, which is spearheaded by one of his long-time saxophone colleagues, Arthur Baron, and features a rhythm section of Abel Pabon on keyboards, Josh Allen on acoustic and electric basses (with Eric England substituting on bass in track 3), Michael Piolet on drums, and Alfredo Chacon on vibraphone and percussion. Liebman, like other master musicians today, is finding ways to collaborate with younger players both as mentor and conversely to assimilate their new ideas. This album works extremely well in bringing the generations together. The musicians are very much in synch with one another and obviously enjoy their interaction. And Liebman has plenty of room to show his wares, while the others make significant contributions as well.
All the musicians except Liebman are or have been based in and around Miami, which explains the name of the Project. Miami is an eclectic town with many ethnic groups, a strong Caribbean influence, and an unheralded jazz tradition akin to New Orleans. For example, the legendary drummer Mickey Roker became interested in jazz as a child by following street bands around the city. South Beach has been a hub of diverse musical developments. With Liebman's inspiration, this album coalesces that energy into a celebration of John Coltrane's legacy re-interpreted in terms of the jazz fusion genre initiated by Weather Report, Miles Davis, Chick Corea, and others soon after Trane's untimely passing.
Liebman participated in both the post-Coltrane movement and fusion, and he gives this album a special impetus that makes the fusion of bop, rhythm and blues, and electronic sounds take on the spirit of Trane, with the heightened emotionality and reaching towards the spirit world that was the hallmark of Coltrane's music. Some parts of the recording echo A Love Supreme (Impulse, 1965) and others are reminiscent of the formidable John Coltrane Quartet. The music has the wildness of fusion and at the same time the improvisational expressiveness and control of Trane. In addition to Liebman, the player whose impact is most fully felt throughout is the remarkable keyboardist Abel Pabon, who pulls out all the synthesizer capability of modern keyboards to produce sonorities and sound streams that enrich and enhance the ensemble effect.
Most of the tunes consist of originals by Liebman and by Baron, but the opening track is a Coltrane standard, "Dahomey Dance," and there are ample references to Trane's album Ole Coltrane (Atlantic, 1961) on which the song first appeared. This is an energetic "trance dance" in which Liebman emulates Coltrane in his solo choruses while Baron's and Liebman's operation as a unit establishes a rhythm and blues feel.
"Lordy Lourdes" was composed by Baron and Pabon, and the latter's keyboard intro with synthesizer effects shouts out "jazz fusion!" A touch of world music is added by the flute. The whole mix takes on a Middle Eastern pulse and modal sound. The flute plays against Pabon's funky rhythms, and we then hear a "violin" interlude, which we assume is a synthesized sound. The work builds in intensity and becomes a seductive middle-eastern dance. The piece concludes with a mysterious fade-out by the flute.
The mid-east theme continues with Baron's"Jinnistan," which derives from Arabian folkloric spirits in ancient Persia with powers that could influence people to do good or evil. The angelic and demonic energy is generated by background and foreground riffing, and there is a nothing-short-of fabulous tenor saxophone solo by Liebman which someone ought to transcribe as a prime example of his iconic playing.
"Winter Day," a Liebman original ballad, stands in sharp contrast to the previous tracks. A light samba rhythm leads up to a polyrhythmic combination of 2/4 walk and interspersed waltz time. Kudos to drummer Piolet who makes the polyrhythmic effect work successfully. When the flute comes in, its sweet improvising reminds us of Jobim, a feeling which is taken further by Pabon's piano solo.
"Mr. Q," written by Baron as homage to Coltrane and Elvin Jones, emphasizes drums and percussion, and also features a call and response melody line anchored by a minor vamp. There is chant-like bridge which contains more than a hint of "A Love Supreme." This is sheer Coltrane and Elvin, and we can also hear echoes of Jimmy Garrison and McCoy Tyner, but the keyboard work adds a citrus twist to McCoy. The combination of Allen's electric bass, along with drums and percussion, creates a sustained rhythmic impact. Liebman again contributes an outstanding tenor saxophone solo which sounds like he is channeling Trane.
"Intro To Slow Dance on the Killing Ground: Blessings Eternal" utilizes a synthesized background against the flute to iniitiate the listener to the discourse of the next track, "Slow Dance on the Killing Ground," a piece originally recorded by Lieb in the 1970s in a little known album called Light'n Up Please (A and M Records, 1977). Both the intro and the main theme develop a sinister quality which perhaps represents a protest of the Viet Nam war and is certainly appropriate for the terrorism that haunts our world today. Thanks especially to Pabon's use of synthesizer effects, the piece could easily be provide cinematic background music to film footage where danger and conflict are encountered.
"Sheer Joy " is a newer Liebman ballad (which he indicates in the liner notes is a pun on the name of a German saxophonist and computer wiz named Scheer, who commissioned the piece). Pabon develops a keyboard sound somewhere between a piano, marimba, chimes, and guitar. (Or is it Chacon's vibraphone we're hearing? There is some prestidigitation going on.) Liebman's soprano saxophone improvisation contains a characteristic sense of the blues.
Liebman's original, the very searching "Missing Person," is very French-flavored and in a sense a slow movement rather than a song. It is done as a soprano (Liebman) and tenor saxophone (Baron) duo meant to highlight two horns in a playful conversation, setting up an improvisatory atmosphere. According to Liebman in the liner notes, "The title refers to people we meet in life who may not be technically 'missing' but in social interaction don't seem to be on the same page as oneself or what is happening around them....physically present, but mentally not all there." The choice of metaphor, is, however, perhaps best left to the listener.
Baron wrote "Tu Amor Neri" as a concluding piece in homage to Afro-Cuban dancer and choreographer Neri Torres. Says Baron, "It is essentially a Bolero played in 4/4 time with a jazz feel. The tune ended up being a fairly complex composition with an introduction followed by five sections, each expressing different moods and dynamics embellished by Lieb's signature harmonic concepts." The piece gently incorporates many of the features of the previous tracks in a kind of summary.
JAZZ TIMES
On this CD the Miami Jazz Project attempts to bring the sound of '70's electric Jazz fusion (think Miles Davis and Weather Report) into the 21st century, and succeeds admirably. The leaders are saxophonists Arthur Barron and Dave Liebman, and keyboardist Abel Pabon, the latter also a key factor as producer and co-arranger with Liebman. The compositions are primarily by Barron and Liebman, except for a striking arrangement of "Dahomey Dance" by John Coltrane, one of the two saxophonists' main influences, and these originals contain elements of straight ahead jazz, blues, jazz rock, Latin and world music. Barron actually studied with Liebman back the '70's (and was mentored by Pharoah Sanders), a period that found Liebman performing in the groups of Miles Davis and Elvin Jones. Pabon has toured with Joss Stone and been heard with Nestor Torres, and Barron has Latin connections as well, among others Hilton Ruiz and Jerry Gonzalez. Of the members of the Miami Jazz Project, only Northeasterner Liebman has not been based in South Florida, and besides Barron and Pabon they include bassists Josh Allen and Eric England, drummer Michael Piolet, and vibraphonist-percussionist Alfredo Chacon.
The opener is "Dahomey Dance," from the Olé Coltrane album, with the rhythmic and textural basis altered as Pabon's synth blends with the horns on part of the theme. Barron's tenor solo rages and churns in a style that while clearly his own owes a debt to Trane's modal ingenuity. Liebman follows on soprano, authoritatively surging with an inexorable, swirling momentum. Pabon's piano improv swings in a Latin / McCoy Tynerish fashion. "Lordy Lourdes" was inspired by Barron's friend Lourdes Gonzalez, and he and Pabon created a piece that incorporates Middle Eastern, blues, and R & B ingredients. Barron's flute enchants on the melody over a wah-wah effect, with Pabon's synth eventually joining him in snake-charming harmony. Allen's steadfast bass lines and Piolet's funky rhythms elevate Barron's spiky, penetrating statement, and Pabon's solo is lyrically elegant and satisfying. The arrangement itself is a work of art, and in listening one sometimes imagines flutist Jeremy Steig back in the day negotiating its appealing contours with great relish. Barron conceived "Jinnistan" when learning about the supernatural spirits called the Jinns during his study of Sufism. Again, Middle Eastern, jazz, and blues aspects are combined. Pabon's synth effects and Barron's forceful delivery of the mostly riffing theme set up his throaty, exclamatory alto solo. Liebman succeeds him with a densely packed exploration that peaks in roiling, dissonance-laden cries. Pabon's riveting synth outing cedes little ground to the saxophonists, and his soundscapes during their prior solos are both supportive and provocative.
"Winter Day" is Liebman's ode to a typically stark day in his home ground of Pennsylvania's Pocono Mountains. Barron's flute, Liebman's soprano, and Pabon's keyboards make for a finely tuned combo on the lofty ballad theme. Liebman's solo mixes sliding and abrupt phrases with voice-like wonderment. Barron's take is relatively soothing and assuring, while Pabon's melodic piano musings occur over his own wafting simulated strings. "Mr. Q" is Barron's tribute to Coltrane and Elvin Jones. The powerful theme recalls "Blue Train," as the tenors of the composer and Liebman engage in call and response elaborations. Barron delves deeply into the tune's modal substance with an attractive thematic logic, while Liebman's improv is differentiated by a slightly more acerbic tone and a greater reliance on upper register shrieks and wails. The reprise focuses on perhaps the most distinctive and fulfilling part of Barron's expansive theme. Originally recorded by Liebman in the '70's, "Slow Dance on the Killing Ground" takes its name from a William Hanley play that debuted on Broadway in 1964. Pabon's portentous Tibetan chant-like synth intro ("Blessings Eternal") creates the proper mood for what transpires. A pounding drum and bass vamp frames Liebman's whirling Middle Eastern-colored soprano exposition, and the captivating percolation of Pabon's electronic orchestration precedes and extends into an even more intense Liebman spot that darts and plunges with unfettered vigor. Barron's sudden appearance on tenor near the end gives the piece a declamatory contrapuntal resolution.
"Scheer Joy" (Scheer being the last name of the person who first commissioned the piece) is an endearing and sensual Liebman ballad, which is given a refined reading by him on soprano. Pabon's rhapsodic electric keyboard solo and Liebman's own eloquent assessment are the highlights. "Missing Person" is a three-minute plus duet between Liebman's airy soprano and Barron's more profoundly echoing tenor. Their intuitive counterpoint and individually spaced phrasings mold themselves into an absorbing and fully realized whole. "Tu Amor Neri" is Barron's salute to Afro-Cuban dancer and choreographer Neri Torres, which he describes as "essentially a Bolero played in 4/4 time with a jazz feel." The substantial thematic material includes an intro and five varied sections. Liebman's soprano, Barron's flute,and Pabon's piano unite in lustrous harmony as the listener travels the melodious pathways. Barron's solo flutters and sails with an expressive gravity, and Liebman's exclaims with heartfelt emotion. Their ecstatic embellishments during the lengthy reprise, above Pabon's lively accompaniment, are a memorable finale to this noteworthy project.